Details

Category:

Frontpage

Hits: 14664
Expires 5/1/2022 • Renew
Problem with your listing? Email TICA
Disclaimer: The International Cat Association, Inc.® (TICA®) Does Not Endorse any of the breeders, products, or services on this page unless otherwise noted. Please read our Disclaimers.
Accepted For Championship in TICA in 2014
---
---
Best of Breed: Scottish Straight

Click on thumbnails for larger image

Best Scottish Straight Of The Year
RW BW SGC EXCATIBURFOLDS BATMAN
BROWN (BLACK) MACKEREL TABBY
Bred/Owned By: SAUNCHA ROMEY


Best Scottish Straight Kitten Of The Year
BW MUSE QUARTERBACK SNEAK OF TZARKHAN
CHOCOLATE GOLDEN CHINCHILLA
Bred By: PAMELA VICTORIA MERCIER
Owned By: CHERYL HOGAN AND PAMELA BROOKS MERCIER


Sponsor: ArcaneCat British - Gregory Anderson

Best Scottish Straight Alter Of The Year
RW BW CHA MARRYCATS VALTER
BLUE/WHITE
Bred By: MARIA MESZAROS
Owned By: ANIKO NONN-CSESZLAI
Details

Category:

Frontpage

Hits: 18023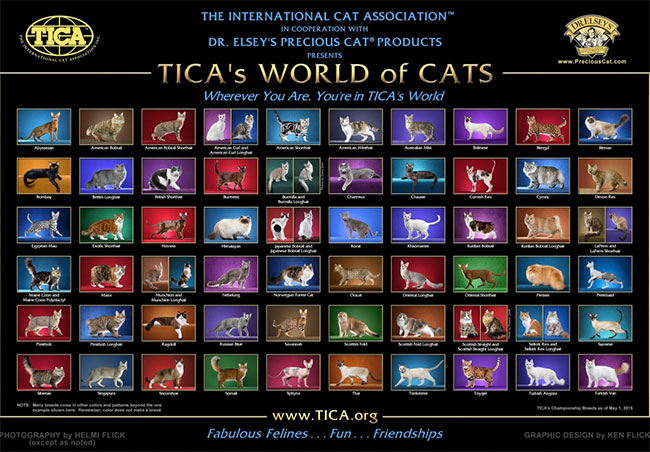 Details

Category:

Frontpage

Hits: 19933
Details

Category:

Frontpage

Hits: 32164
In keeping with the Mission and Policy Statements of TICA, the Outstanding Cattery Program has adopted the Cattery Evaluation Program and the Outstanding Cattery Code of Ethics as requirements for achieving the TICA Outstanding Cattery certificate. The goal is to provide education, information, and guidance to breeders so that they are aware of proper husbandry and cattery management techniques.
| | | |
| --- | --- | --- |
| Cattery Name | Expiration Date | Consecutive Years |
| ADORABLESTARS | 10/04/2022 | 2 YEARS |
| ATLASTCATS | 7/6/2022 | 2 YEARS |
| AZHOUSEOFRAGS | 3/10/2022 | NEW |
| BAREINTHEBURGH | 07/30/2022 | NEW |
| BARENAKEDCATVA | 09/16/2022 | NEW |
| BEEBLEBROX | 06/15/2022 | NEW |
| BONNEVIE | 11/20/2021 | NEW |
| BOSSBENGALCAT | 11/12/2022 | NEW |
| CHESHIREMC | 11/4/2021 | NEW |
| DENTONS | 10/21/2022 | NEW |
| DREAMYCOONS | 09/16/2022 | NEW |
| EXOTICLEGENDS | 5/01/2022 | 2 YEARS |
| EYEOFTHETIGER | 12/7/2022 | NEW |
| GOLDENDOTS | 1/05/2022 | NEW |
| JENSENSPHYNX | 6/15/2022 | NEW |
| JUDYFUL | 5/07/2022 | 3 YEARS |
| KEDILABA | 12/2/2021 | NEW |
| LANDOFBENGALS | 3/10/2022 | NEW |
| MAINEGUARDIANS | 3/15/2022 | 2 YEARS |
| MAINEKATJIES | 10/12/2022 | new |
| MAJESTICOON | 1/14/2022 | 2 YEARS |
| MARVELOUSKOONZ | 11/26/2022 | NEW |
| MASTERWEAVER | 11/26/2021 | NEW |
| MINGSMONGOLS | 11/18/2021 | NEW |
| OPTICOONS | 01/29/2022 | 2 YEARS |
| PLANETSPHYNX | 2/5/2022 | NEW |
| RAINIERSAVANNAH | 3/31/2022 | NEW |
| RIPCITY | 07/16/2022 | NEW |
| SANDFOLD | 12/22/2021 | 2 YEARS |
| SASSYKOONZ | 9/24/2021 | NEW |
| WILDANDBEAUTY | 3/02/2022 | NEW |
| WILDEDGE | 1/7/2022 | NEW |
| WILLETTERAGDOL | 4/12/2022 | NEW |