There is no translation available.
The American Kennel Club and The International Cat Association educate and entertain tens of thousands of dog and cat lovers at the third annual AKC Meet the Breeds in New York City.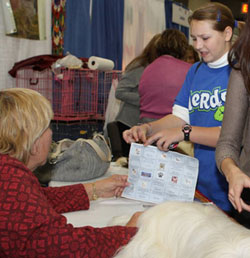 Kids loved playing bingo about cats and dogsDec. 10, 2011 - PRLog -- From cats in costumes to a recreated scene from the Wizard of Oz, the American Kennel Club® (AKC) and The International Cat Association (TICA) hosted record-breaking crowds at the third annual AKC Meet the Breeds® event – the largest showcase of dogs and cats in the world.
Presented by PetPartners, Inc., your partner in pet health care, more than 1,000 dogs and cats, representing 210 breeds, filled the Javits Center on November 19 & 20. From the more common Labrador Retriever and Sphynx cat to some of the rarer breeds, such as the Pumi and Toyger cat, dog and cat lovers were treated to interactive, decorative displays and allowed to meet and play with each breed while learning directly from the experts the responsibilities of owning that pet.
"The AKC was pleased to join forces with TICA to once again offer the public this opportunity to meet and play with dogs and cats, including some of the rarest breeds most people may have only read about or have seen on television," said AKC Assistant Vice President Gina DiNardo. "This entertaining and educational event helped teach children of all ages – including local Girl Scout and Brownie troops – about which dog or cat could become a lifelong member of their family and how to be a responsible owner."
"TICA was proud to be a part of AKC Meet the Breeds and give kids the opportunity to walk through the Bengal breed booth decorated as the jungle, and pet the loveable Toyger cat that looks like a wild Tiger, while their parents learned about responsible pet ownership and the importance of learning the characteristics of each breed before you add it to your family," said TICA President Vickie Fisher.
"I want to thank all of our sponsors, vendors and especially the wonderful volunteers from participating AKC Parent clubs and TICA that represented the more than 200 breed booths and performed in the demonstration rings," said AKC President and CEO Dennis B. Sprung. "Your help and dedication is what makes us able to bring this responsible pet extravaganza to life and educate the public about what breed is best for their lifestyle."
This year's Best Booth Awards were sponsored by ShowSight Magazine, with the Saluki booth winning for the Hound Group and taking Best Booth in Show for their recreation of an ancient Egyptian setting with booth volunteers dressed in traditional Arabian clothing. The Labrador Retriever booth took best in the Sporting Group, the Mastiff won best in the Working Group, the Cairn Terrier won best in the Terrier Group, the Chinese Crested took best in the Toy Group, the American Eskimo Dog won for the Non-Sporting Group, the German Shepherd Dog won for the Herding Group, and the Cirneco Dell'Etna won for the Miscellaneous Class/FSS breeds.
Spectators enjoyed more than 15 entertaining demonstrations including the popular Kitty CATure feline fashion show featuring Meow Wear designer Carla Reiss' custom creations, the U.S. Customs & Border Protection team and their K-9s, and dog and cat agility where people got the chance to watch the dogs and cats race against the clock through weave polls, over jumps and through tunnels.
More than 100 vendor booths also offered every imaginable pet product and service including Paramount Chemical Specialties nontoxic-stain and health products, The Hartford auto and home insurance for responsible dog owners, LG Electronics USA vacuums for pet owners, American Pet Product Association promotion of the benefits of pet ownership and the human-animal bond and Motel 6/Studio 6 offering pet friendly lodging with a 10% AKC discount. These are some of the many ways of giving owners the opportunity to bring a little something back to share with their four legged friends just in time for the holidays.
View photo coverage at www.MeetTheBreeds.com. Additional photos and video can be found on AKC's social media pages including Facebook, You Tube and Twitter.
About AKC Meet the Breeds
From Afghan Hounds to the Turkish Van, AKC Meet the Breeds® showcases 160 American Kennel Club® (AKC) registered dog breeds and this year will feature 50 cat breeds registered by The International Cat Association (TICA) in booths individually decorated to depict each breed's country of origin, historical purpose/function, and attributes as a family pet. This family-friendly event is an opportunity for potential pet owners to interact with responsible breeders and play with dogs and cats while educating themselves about responsible pet ownership and choosing the right pet for their lifestyle. AKC Meet the Breeds is proudly presented by PetPartners, Inc., a leading pet healthcare provider, and will feature more than 160,000 square feet of dog and cat festivities including ongoing demonstration rings – featuring law enforcement K-9's, dog agility, grooming– and more than 100 vendor booths that offer every imaginable product for pets and their owners. Event sponsors include Pet Partners, Inc., The Hartford Financial Services Group, Inc., P&G Pet Care, Iams, Pet Brands, Inc., Motel 6, Emergency Assistance Plus (EA+), Hill's® Science Diet® Small & Toy Breed dog food, LG Electronics USA, Paramount Chemical Specialties, Inc., American Pet Products Association, Canine Companies, Inc., Toyota's Pet Safety Initiative, amNewYork, Baker Institute for Animal Health at Cornell University and ShowSight. For more information visit www.meetthebreeds.com.
The American Kennel Club, founded in 1884, is a not-for-profit organization which maintains the largest registry of purebred dogs in the world and oversees the sport of purebred dogs in the United States. The AKC is dedicated to upholding the integrity of its registry, promoting the sport of purebred dogs and breeding for type and function. Along with its nearly 5,000 licensed and member clubs and its affiliated organizations, the AKC advocates for the purebred dog as a family companion, advances canine health and well-being, works to protect the rights of all dog owners and promotes responsible dog ownership. More than 20,000 competitions for AKC-registered purebred dogs are held under AKC rules and regulations each year including conformation, agility, obedience, rally, tracking, herding, lure coursing, coonhound events, hunt tests, field and earthdog tests. Affiliate AKC organizations include the AKC Humane Fund, AKC Canine Health Foundation, AKC Companion Animal Recovery and the AKC Museum of the Dog. For more information, visit www.akc.org.
---
The International Cat Association, Inc. (TICA) was organized during 1979, is the world's largest genetic registry of pedigreed cats, largest registry of household pet cats and kittens, and one of the world's largest sanctioning bodies for cat shows. TICA currently recognizes more than 54 breeds of cats. Wherever you are, you're in TICA's world. A world of fabulous felines…fun... and friendships. To learn more about TICA visit http://www.tica.org.