There is no translation available.
The International Cat Association (TICA) announced the reelection of its President, Vickie Fisher and its Vice President, Bobbie Tullo for new terms which start January 1, 2012.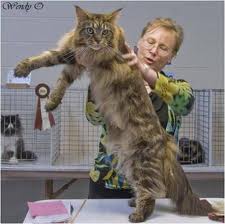 Vickie Fisher, TICA President and All Breed JudgeJan. 8, 2012 - PRLog -- The International Cat Association (TICA), the world's largest genetic registry of purebred cats, announced that Vickie Fisher was re-elected as the organization's President and Board of Directors Chair. TICA also announced that Bobbie Tullo has been reelected as the organization's Vice President. Both Fisher and Tullo will serve a new three-year term starting January 1, 2012.
"I'm thrilled that TICA's members have reelected both myself and Bobbie Tullo to continue to help TICA expand its presence around the world, and to have the chance to work with and educate local communities and youth groups on responsible pet ownership and cat welfare," said Fisher. "During the past two years, we've experienced the wonderful world of TICA and have had the honor to get to know not only the fabulous felines around the world but share in the fun and friendships that our members and exhibitors enjoy in every country where TICA has members and clubs that host shows!"
Fisher and Tullo were elected in 2009 and served two years as President and Vice President respectively. Fisher has also previously served as TICA's Southwest Regional Director and a member of its Board of Directors. She is an Approved All Breed judge for TICA. Fisher is the President and Founder of the Albuquerque Kennel Kompadres (AKK), a nonprofit "friends of" the City Animal Shelters; an instructor for the City of Albuquerque's Animal Shelter's School Outreach Program; and a Director of a New Mexico healthcare organization. Previously Fisher was the Deputy Chief Administrative Officer for the City of Albuquerque. A Certified Public Accountant, Fisher has held several executive financial positions including Cabinet Secretary for Taxation for the State of New Mexico.
Tullo, a licensed and approved TICA All Breed judge since 1982, is a charter life member and helped put on the first TICA cat show. She also has been TICA's Judging Administrator and a member of its Rules Committee since 1997. Tullo is the founder of the Chausie Rescue and several chartered cat clubs. She is a small business owner of an antique emporium in Pine, Arizona
---

Organized during 1979, The International Cat Association (TICA) is the world's largest genetic registry of pedigreed cats, largest registry of household pet cats and kittens, and one of the world's largest sanctioning bodies for cat shows. TICA currently recognizes more than 55 breeds of cats. No matter where you are, you're in TICA's world. A world of fabulous felines…fun..and friendships. To learn more about TICA visit http://www.tica.org. Cat lovers can also learn about cat care, breeds, nutrition, psychology and more at TICA University http://www.ticau.com