There is no translation available.
Your Guide to Navigating the New Site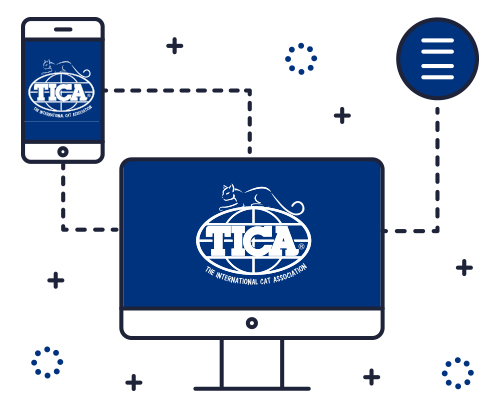 Welcome TICA friends to the home of our new website. The following will explain some of the ideas behind our new design and structure and help guide you to find the content you're looking for quickly and easily.
Homepage – Our goal is to grab the attention of the occasional visitor with the "focus area" at the top of the screen. This page is geared toward people who just happen to come across our site, so we designed it to give an overview of who we are and how we can help them find just about anything feline related. This page includes sections such as "What is TICA?", "Find A Kitten", "Find a Breeder", "Find a Show" and how "Non-Pedigreed Cats" are also included within TICA. TICA's homepage also features a different "Breed of the Week" that highlights the personality, traits and basic features and care needs of each breed to help those interested in sharing their home with a pedigreed cat to find the right breed for them.
Within the homepage screen you will find the following sections:
TICA International Winners – This area will proudly show off TICA's 2017-2018 top 25 cats within each category.
Newsroom - This area will include the most recent news about the Association, including news articles, TICA's various newsletters, press clips and press releases. The homepage will always include the three most recent articles, but you can always "Load More".
Menu – Our goal with each menu item is to reach different "user groups" with information specific to their needs, including "Cat Lover", "What is a Cat Show?" and "Non-Pedigreed Cats & TICA" for those who aren't as familiar with TICA (yet).
For those who already know their way around "Breeds" there are areas such as "Browse All Breeds" and "Find a Cat".
"Owners & Breeders" includes information for TICA members, such as "My Cats" and "Register My Cat" that will take you to TDS Online. "Standings" "Therapy Cats", and "Breeder Education" are also included in this section.
In the menu section you will find the following:
Clubs - This section includes information on how to "Find a Club" or "Charter a New Club", as well as how to "Find a Show" and "Put on a Show".
Resources - Information about TICA and its leadership as well as various communication pieces and forms can be found here. Within the dropdown menu you will find "Our Association", "Our Forms", "Our Publications" and "Our People" as well as various other areas of interest.
Events - Information about TICA "Shows" and other events that include a TICA presence, including various vet conferences, AKC Meet the Breeds and "Board Meetings".
Online Services - This section serves as your portal to the various services TICA offers. Here you will find "Step-by-Step Instructions" to TICA's online services as well as access to "TDS Online", links to TICA's "Online Forms", and available "PDF Forms". Access to "Support Tickets" and "FAQs" can also be found in this section.

Other features of the homepage include access to TICA's various "Social Media" accounts and "contact information" on the top left of the homepage screen. The bottom of each page includes a path to the page you are currently on as well as a "Quick Menu" that highlights some of your content, "Popular Articles" that automatically lists the most visited articles, as well as "Latest News" which lists the newest articles available in that particular section.

Most importantly, if you're unsure of where to find the information you are looking for you can always use the "Search" function on the top right of each page.
We hope these hints will help you to navigate our new website. Enjoy!