There is no translation available.
The intersection of scientific research, feline enthusiasm and practical solutions took center stage in La Plata, MD, June 17, 2017, during the Capital Cat Club's Mid Atlantic Feline Education & Cat Show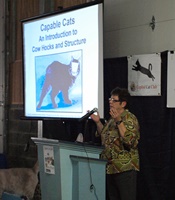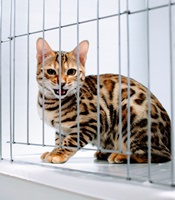 The educational event, sponsored by Dr. Elsey's Clean Protein and Ceva (makers of Feliway), allowed more than 70 TICA Members, TICA judges, scientists and veterinarians the rare opportunity to share insights and practical veterinary expertise, present research, and pointed to comparisons with other domestic species to improve how we observe and select purposely bred animals. The premise of the Feline Education & Cat Show was an equal emphasis on educational seminars about feline genetics, husbandry, health and welfare with the conformational evaluation of a cat show.
TICA judges are required to attain six Continuing Education Units (CEUs) per year to retain their TICA judging license; an Education Show format holds those CEUs worthy seminars during one half of an alternative format show inviting all exhibitors and TICA Members. TICA's continued progress is assured when the membership and leadership are informed and engaged with professional disciplines and corporate innovations that can improve the lives of cats and the lives of cat lovers.
Seminars included:
Feline Genetics 101 & Genetic Counseling in the Era of Molecular Diagnostics led by Margaret Casal, DVM, PhD University of Pennsylvania Veterinary School
Defining a Population, Breed, Species for Morphology, Health & Understanding led by Brian Davis, PhD Texas A&M
Managing Stress and Anxiety in the Multi-Cat Household led by Dr. Edward Koronowski, DVM CEVA Animal Health
Pigment and Pattern in Domestic & Wild Felines and other Mammals led by Chris Kaelin, PhD Stanford University
Insights and Innovations in Feline Neonatal & Pediatric Care led by Rick Kesler, DVM Royal Canin
Observing and Evaluating Healthy Form, Structure and Movement for the Purposefully Bred Feline led by Adriana Kajon, PhD & Vickie Shields TICA Allbreed Judges
Insights to Genetic Feline Health Screening at Cornell Veterinary Biobank led by Isabel Hernandez DVM
Comments from TICA attendees include:
"It was fabulous and after 40 years of breeding cats I learned a lot!!! We need to do this more often. All the speakers were so dedicated and interesting" - Pat Killmaier
… "This show featured professional guest speakers from across the country that provided such valuable life saving information that we simply have not been able to find from your average internet search or even local veterinarians. I hope to see more shows modeled after this event as I truly believe this is an amazing productive direction for future growth within breeds as well as the community. Bravo on a job well done!" - Jessica Petras
"This was a fantastically run event. I found something to contemplate from every presentation, and was able to leave with knowledge and inspiration to improve my own program and practices. Thank you and I cannot wait for the next show in this format!" - Sami Kerr
"It was a truly valuable event. As others have said, I learned something from each speaker. Having educational programs as a routine part of shows make the time and cost to travel to the show even more worthwhile. Thank you for developing this format!" - Karen Sausman
"Anthony, totally enjoyed this new show format. As you said I did not want the speakers to stop. So much helpful information. I can't thank you enough for bringing a fresh outlook and creative thinking to our shows and to TICA." - Chris Jacobsen
"So, so great. Thanks for doing this!" - Emily Greene
"Thank you Anthony and the Capital City Club, the lectures I attended were very good, regret I had to leave before the end to catch my flight. I look forward to the next opportunity. Very glad I attended, well worth the trip." - Donna Maddox
"Fantastic format Anthony! Great lectures. Was a great weekend. - Vicki White
"It was excellent! I would like to do one here in the Great Lakes." - Heather E. Lorimer
"This was a GREAT event! Thank you so much for your courage (and energy) to break out of the mold and do something different." - Tereasa Brainerd
"Anthony Hutcherson, thank you so much for all you do for us exhibitors and even more so for the cats we exhibit. I love coming to your shows as they are so well organized and you are always a positive influence on everyone you speak to. Thank you so much for organizing the seminars, so much information - so little time!" - Cathy Honacher
"Anthony, Bravo!! Thank you for recognizing the need for an educational show / conference. Your choice of speakers was excellent. Their presentations were so informative. I learned so much! Another great venue thanks to you and TICA." - Mary Papuga Kimelman
For more information on how to add educational seminars to your cat show contact Anthony Hutcherson at jungletraxcats@gmail.com.