There is no translation available.
Name: Shelly Finley

State: Wisconsin

Country: USA

Phone: (262) 567-9773

Email: shelly@shellyscats.com

Website: www.shellyscats.com
Expires 5/1/2020 • Renew
Problem with your listing? Email TICA
Disclaimer: The International Cat Association, Inc.® (TICA®) Does Not Endorse any of the breeders, products, or services on this page unless otherwise noted. Please read our Disclaimers.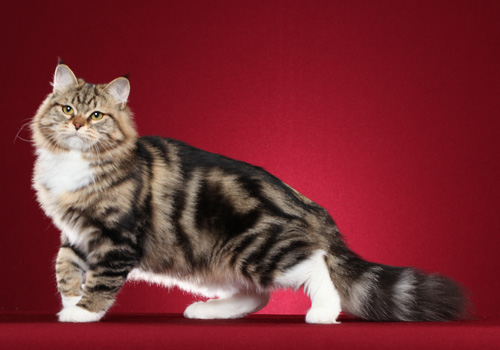 Accepted For Championship in TICA in 1993
---
---
Best of Breed: Siberian

Click on thumbnails for larger image

Best Siberian Of The Year
CIELOCH TAKE A CHANCE


Color: Brown (BLACK) Mackerel Tabby
Owner: Lin Mao
Breeder: Lin Mao

Sponsor: M. Zhang & William Wang

Best Siberian Kitten Of The Year
NIKA OF BARVINOK/WC


Color: Red Classic Tabby/White
Owner: Margo Van De Werve
Breeder: Iryna Petrenko

Best Siberian Alter Of The Year
VIP HAKUNA MATATA/WC


Color: Cream Lynx (TABBY) Point
Owner: Khristina Moiseeva
Breeder: Khristina Moiseeva