There is no translation available.

---
Welcome TICA Friends to our new newsletter format!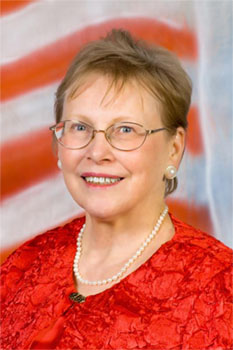 You will notice that this month we changed the layout and format of our monthly enewsletter. We read your comments in our recent Communications Survey and as a result, changed our format to make news quicker and easier to access. Let us know how you like it or send any suggestions to our newsletter editor at newsletter@tica.org.
But on a sad note, I'm sorry to report that TICA has lost yet another beloved friend and our founder, Georgia Morgan. Georgia passed away at the age of 97 on October 4, 2018. She, and a handful of cat enthusiasts founded TICA on June 22, 1979. Their dream of building the most progressive, flexible and innovative cat registry in the world came true when TICA was formed.

We thank Georgia for forming TICA with such strong convictions – that a cat association should give equal representation to all cats, maintain a close alliance with scientific researchers, provide an avenue to insure that the cat fancy remain an elite group, and always promote camaraderie among enthusiasts, breeders, exhibitors, and spectators at the shows – and making us who we are today, 7,000 members strong in 104 different countries. You can read more about TICA's beginnings and Georgia's influence HERE.
Georgia continued to live in Harlingen, TX and from time to time visited the TICA Executive Office and maintained some influence on TICA operations. You will be missed by many Georgia, however your dream lives on in TICA!
---
In This Issue
Christmas Comes Early | Winn Announces New Campaign | TICA Siamese Breed Committee Aims to Raise More than $10K | TICA Educates Feline Practitioners From Around the World | U.S. FDA Issues Warning Over Flea and Tick Medications | TICA Members Asked to Participate in Old Dominion University & AFB Research | TICA Offers Registration Incentives | TICA In the News | An Update From The Winn Feline Foundation | TICA Regional Updates
---
Christmas Comes Early to Various U.S. Shelters and Rescues Thanks to Dr. Elsey's and TICA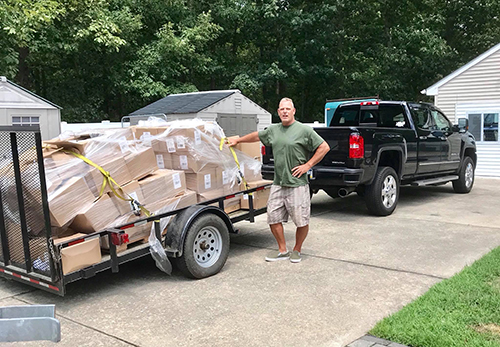 Dr. Elseys NJChristmas came early this year to more than a dozen shelter and rescue organizations which TICA works with throughout the U.S. when Dr. Elsey's, with the help of TICA, donated more than 30,000 pounds of premium CleanProtein dry kibble food to those in need.
TICA Marketing Director Roeann Fulkerson, Regional Directors Laurie Patton, Anthony Hutcherson, Liz Hansen, Ellen Crockett and Alabama Paws & Claws Treasurer Honey Gilmore, located shelter and rescue organizations and coordinated efforts with volunteers to ensure deliveries were made promptly.
"Thank you Dr. Elsey for such a wonderful gesture," said Darlene Thomas, DFW Purebred & Domestic Cat Rescue, Inc. "We will forever be grateful for your kindness and love of cats. Rescue work is hard. Never enough of anything be it money, time, volunteers and always food. With this donation we will have one less thing to worry."
Among the shelters and rescues, include:
Carolina Cats - Columbia, SC
Chester County Animal Care & Control - Chester, SC
Greater Birmingham Humane Society, Birmingham, AL
Jefferson County Humane Society in Port Townsend, WA
Jersey State Animal Rescue
Kat Kingdom in Sumiton, AL
Kitty Konnection - Evans, GA
Safe Cats - Columbia, SC
Safe and Sound Animal Rescue in Vernon Township, NJ
Save Our Strays, Birmingham, AL
Sunset Felines - Columbia, SC
Tri-County Animal Shelter of Calvert, Charles and St. Mary's County MD.
Urban Cat Coalition, Milwaukee, WI
Washington Humane Alliance in Washington, DC
---

Winn Announces New Campaign to Help Find Answers to Feline Kidney Disease
In honor of Cures4Cats Day, the Winn Feline Foundation launched a new campaign designated to find answers that will help prevent or slow the progression of feline kidney disease (FKD). The campaign kicked off with a $4,000 donation from NOLA Cat Film Festival and Art for Cat's Sake Foundation.
Chronic Kidney Disease (CKD) impacts nearly 50-percent of aging cats. While the underlying causes of CKD are not fully understood, continued research has helped our understanding of kidney function and the promise of more effective treatment options.
In an effort to raise $100,000 toward FKD, Winn will match $2 for each dollar donated on October 20th, up to $50,000 in new donations toward feline kidney disease research with this initiative.
Winn's annual Cures4Cats Day, held this year on October 20th, was created to raise awareness of the need for evidence-based cat health studies.
Click Here to make a donation now and help find a cure for FKD.
---
TICA Siamese Breed Committee Aims to Raise More than $10K to Aid for Winn Research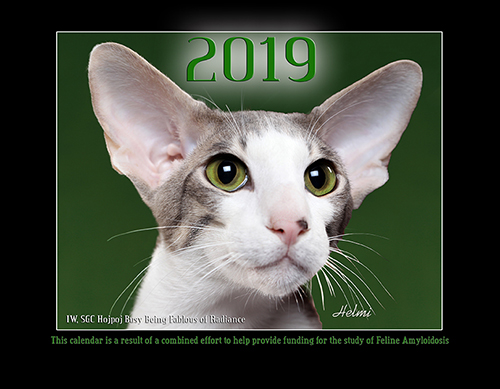 In 2017, the TICA Siamese Breed Committee created a calendar that raised more than $10,000 USD for the Winn Feline Foundation's Siamese Amyloidosis Research Initiative. This year, the Committee hopes its 2019 calendar will repeat history and raise even more money to help stop this deadly disease.
Amyloidosis is a disease in cats caused by an abnormal gene mutation resulting in misfolded, complex proteins known as amyloids that cannot be absorbed by the body. The disease is a hereditary disorder present in the bloodline of feline family trees and because of its wide distribution and hidden onset, amyloidosis is difficult to diagnose, making research crucial.
To raise funds for Winn's research initiative, earlier this year, the Breed Committee sold the covers and months of the calendar that were purchased as a full or shared half and quarter photos. Participation was open to all Siamese, Oriental SH/LH and Balinese breeders, owners and enthusiasts from TICA, CFA, ACFA and GCCF.
Half of the cats featured in the calendar died from the disease, including this year's cover cat was IW, SGC Hojpoj Busy Being Fabulous of Radiance who passed in the beginning of 2018 of amyloids.
"The calendar is a celebration of our cats and a way for us to remember those who have succumbed to this dreadful disease," said Siamese Breed Committee Member
Toni Jones. "We want to extend a huge thank you to Larry Johnson of Johnson Photography, who volunteered his time and talents to design, edit and create this wonderful tribute to cats who should still be here and Dr. Elsey, who also made a large contribution to the calendar."
Proceeds from the 2017 calendar were donated to the Winn Feline Foundation's Siamese Amyloidosis Research Initiative, including the University of Milan and their research team to aid in the discovery of the genes that cause Amyloidosis. A portion of the grant was also given to Dr. Leslie Lyons at the University of Missouri to aid in the extraction of DNA from cats impacted with the disease that were then sent to Dr. Maria Longeri at the University of Italy for further research. As a result of the money donated, they were able to make some big breakthroughs including being very close to finding a marker for Amyloids.
2019 calendars can now be purchased for $20 USD (plus postage) and can be ordered online at www.ticasiamese.com. All proceeds will go to the WINN Foundation.
Plans for an 18-month 2020 calendar that includes the Abyssinian breed group, as they are also impacted by Amyloidosis, is currently underway. For more information contact Vicki Jo Harrison at vjhtx@aol.com.
---
TICA Educates Feline Practitioners From Around the World -- Willie the Maine Coon Draws Crowds of Fans at AAFP Conference --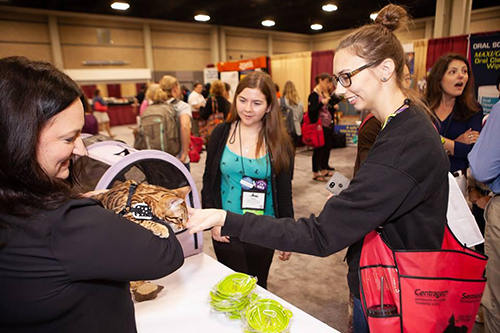 Last month, TICA joined thousands of feline veterinary healthcare professionals from around the world at the American Association of Feline Practitioners 2018 Conference in Charlotte, N.C.
As an event partner, TICA educated thousands of feline practitioners about the unique qualities of different breeds and shared informational materials such as the 2016 and 2017 educational coloring books, the TICA World of Cats magazine as well as the TICA breed poster for use in their offices throughout the world. Dr. Elsey funding made it possible to bring TICA to the AAFP conference.
TICA was represented by Mid-Atlantic Regional Director Anthony Hutcherson and two of his Bengal kittens, one being a Prestige clone, Great Lakes Regional Director Dr. Liz Hansen and her Maine Coon Willie, Jackie Rose and her Bengal Bee and Marketing Director Roeann Fulkerson and her Somali DeeDee. While gaining information about the various breeds was paramount to the vets in attendance, there was no mistaking the stars of the exhibit hall were the cats themselves. As a matter of fact, when Dr. Hansen arrived at the airport Sunday to catch her flight home, she was greeted by several conference attendees who had become fans of Willie and wanted one last picture with him.
TICA would also like to extend a big thank you to KinderedBio for requesting the TICA booth be placed next to theirs directly at the entrance of the exhibit hall, allowing us to make sure every exhibit hall attendee entered with a wealth of knowledge.
Click HERE to view the Good Day Tampa Bay story
---
U.S. FDA Issues Warning Over Flea and Tick Medications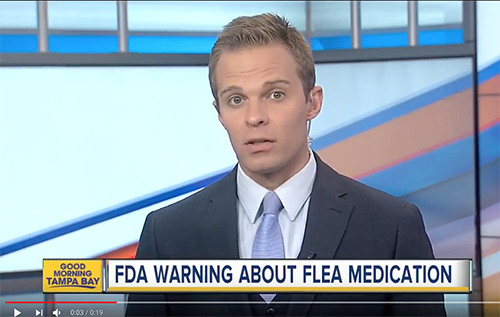 Last month, the U.S. Food and Drug Administration warned pet owners that flea and tick medications containing the pesticide isoxazoline can cause neurological problems, such as stumbling, muscle tremors or seizures, in cats and dogs and said it was requiring clearer labels on the products. Products sold under the brand names Bravecto, Credelio, Nexgard and Simparica were all included.
The labels on the products, sold as flavored chews and pills, already mention the risk of neurological side effects, and the risks have been reported by consumer groups. It is just important for vets and owners to get more information, the FDA said. While the FDA says the medications are still considered safe, they are working with manufacturers of isoxazoline products to include new label information to highlight neurologic events.
"The FDA carefully reviewed studies and other data on Bravecto, Credelio, Nexgard and Simparica prior to approval, and these products continue to be safe and effective for the majority of animals," the agency said.
The FDA urges pet owners to contact their veterinarian if their cat or dog experiences an adverse reaction.
---

TICA Members Asked to Participate in Old Dominion University & AFB Research
TICA members have been asked to participate in an online research study by Old Dominion University and AFB International that examines cat behavior and characteristics as reported by cat owners and caretakers.
Under the direction of Dr. Mary Still, Department of Psychology, Old Dominion University, the scope of the study will investigate the connection between cat behavior, cat personality and feeding behavior. Findings will be published in a research paper intended to improve the scientific understanding of cats.
Participation in the survey is anonymous and all responses will be kept confidential.
Those wishing to participate can click HERE before November 16, 2018 to sign up and take the survey. Questions related to the survey can be directed to Dr. Mary Still at mstill@odu.edu.
---

TICA Offers Registration Incentives
TICA membership is truly the beginning of a journey for many people. More than 7,000 cat lovers, just like you, in 104 different countries make up TICA membership. In addition to the many tangible benefits, members discover a new family and friendships with fellow cat lovers.
Have you registered with TICA yet? If not, the world's largest genetic registry of pedigreed cats and top registry for household pet cats and kittens offers the following incentives:
New TICA Catteries
Five individual cat registrations at $15 PLUS a Cattery Registration for $40. For additional cats (more than 5) the registration fee is only $12. Send an email to take advantage of this offer. Please note that the cattery registration and the individual registrations must be submitted at the same time in order for you to get this special price.
Existing TICA Catteries
Five individual cat registrations at $15 PLUS. For additional cats (more than 5) the registration fee is only $12. Send an email to take advantage of this offer. Please note that individual registrations must be submitted at the same time in order for you to get this special price.
---
TICA In the News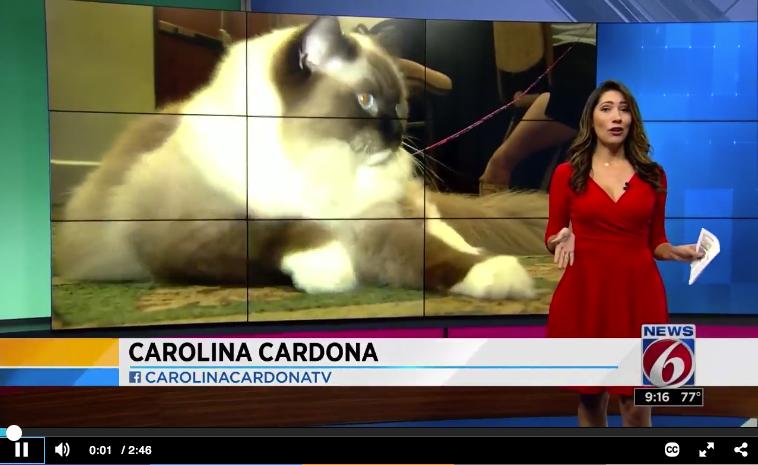 Fluffy Ragdoll Cats Take Over Kissimmee - News 6 in Orlando (Florida) reported on the Ragdolls Around the World cat show being held in Florida for the first time since it started in 2013. Click HERE to read and watch the full story
Paws, Claws and (Soft) Applause -The Star (Aiken, SC) created a slideshow of 42 images taken during the Sept. 8-9 Championship and Household Pet Cat Show, hosted by Cattyshack Cats. Click HERE to see the complete slideshow.
---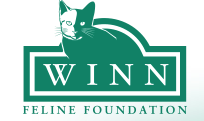 An Update From The Winn Feline Foundation:
Celebrate a Special Veterinary Technician - October 14-20 is National Veterinary Technician week. Consider thanking these very special nurses with a donation to Winn. The Technician Honor Roll presents a unique opportunity to honor someone with a memorable gift that will resonate with them for years to come. For a donation of $100 or more, your respected veterinary technician will receive a letter of notification and a beautiful framed certificate suitable for proud display in their hospital. In addition, they will receive recognition on the Winn Feline Foundation website. Visit the Winn website for more details at: https://www.winnfelinefoundation.org/programs/technician-honor-roll
---
TICA Regional Updates:
---
TICA Great Lakes Regional Update:
2022 TICA Annual – GREAT LAKES! Proposals and bids are due by the 2019 Annual (Las Vegas).
MEOW Meet-Up, July 21-22 in Chicago was a huge success! The TICA GL Region would like to thank regional volunteers: Marina Piskareva, Mary Reiss, Mary Hudec, Barb Waindle, Deborah Kelly, Jan Poole, Jane Zablocki, Jennifer Hardin, Kelli Hallifax, Lori Dominick, and Susan Creighton. I also want to thank Roeann Fulkerson-Chrisope, Toni Newton Jones and Vicki Jo Harrison for their support and help at the event.
Upcoming Shows: Mark your calendars for the following:
The TICA GL Webmaster & Website are Changing! The TICA GL Region would like to thank Kelli Hallifax for volunteering to create and maintain the new site. The Region would also like to thank Carol Lemke for her hard work and dedication over the years on the current website and wish her well in her retirement.
2018-2019 GL Region Awards – The GL Region would like to begin a discussion on ways to lower the cost of the awards and generate revenue and support through sponsorships. Those interested in being part of the discussion should contact Liz Hansen at ticaglrd@gmail.com.
The TICA GL Region would like to thank GL Judge Robin Austin Congrats for her 20 years of service!
2019 TICA Annual shirt (Las Vegas) – Annual shirts, available for purchase in teal, purple or beige, will arrive in the Region at the end of the month. Place your order by contacting Liz Hansen at ticaglrd@gmail.com with the size and color you would like to purchase.
---
TICA Mid Atlantic Regional Update:
Congratulations! The TICA MA Region would like to acknowledge the following for their exceptional work and dedication:
Cheryl Chamberlin, 2017/18 Member of the Year
Connie Webb & Brenda Russo, 2017/2018 Judge of the Year
2017 Keestone Katz Mid Atlantic Regional, Show of the Year
Help the MA Region welcome two new clubs to the TICA family, United Cat Club & Black Eyed Susan Cat Club!
Upcoming Events: The MA Region invites you to participate in 34 rings of TICA competition and fun in November!
Keestone Katz, November 16-18, Pennsylvania National Guard Armory, Coatesville PA. For more information go to http://www.keestonekatz.com/
Christmas City Cat Club, November 24-25, The Center at the Holiday Inn. For more information go to http://ticama.org/cc
---
TICA Mid Pacific Regional Update:
Congratulations to all of the Regional Winners who were honored during the TICA Mid Pacific Regional awards banquet as well as the following Best in each class:
Best HHPK: Rambo, owned by Gloria and Wayne Mahan
Best HHP: LA SGM Casper Tito, owned by Susan Waite
Best Alter: RW SGCA Tajhara License to Chill of Senrabe, owned by Drew Barnes
Best Kitten and Best Cat: IW SGC Toy Tricksy Bonboncito of Chanteuse, owned by Ann-Charlotte Joseph
MP Region Lifetime Achievement winners (2018 show season) - The MP Region would like to extend a very special congratulations to the following:
LA SGM Catbury Bunny of QT, owned by Carol Barton
LA SGM Caylee, owned by Susan Waite
LA SGM Casper Tito, owned by Susan Waite
LA SGM Bridgette, owned by Susan Waite
LA SGC ScantilyClad N Slightly Scandalous, owned by Shauntay Burris
Congratulations also go to Carol Barton, for being awarded MP Region Judge Of The Year
Upcoming Events: Mark your calendars for "A Haunted Event" hosted by Jazzy Cats on October 26-28 in Roseville CA.
---
TICA Northwest Regional Update:
The TICA NW Region would like to congratulate Jim Thompson on being Member of the Year.
Upcoming shows: Mark your calendars for the following:
---
TICA South American Regional Update:
The TICA South American Region is gearing up to host their two Regional Banquets, their most important events of 2018.
This year the first SA Regional will be held in Bogotá, Colombia, hosted by Hataricoon Cat Club, on October 19. Together with the Regional Awards ceremony, the South American Region will also honor National Winners from that country. For more information or to register go to http://www.corferias.com.
The second SA Regional will be held in Santiago, Chile, hosted by Chile Cats, on November 10. Regional Winners from the Southern portion of the Region plus National Winners of Brazil and Chile will be awarded at the ceremony. Junior Exhibitors of South America will also receive their merit distinctions. Email Danilo Sanchez at danilo703@gmail.com for more information.
The TICA SA Region Member of the Year and Judge of the Year trophies will also be presented at one of the banquets, stay tuned to find out who received the honor!
---
TICA Southwest Regional Update:
This past August the TICA Board appointed Canie Brooks as the Interim Regional Director. Canie replaces Alex Chisholm who stepped down for personal reasons. The TICA SW Region would like to thank Alex for her hard work and many years of service and dedication to the Region.


Upcoming Events:
"Cats and Exploring Kittens Show" held by TICA SW Region's newest club Cactus Cats (C4), will take place October 20 at the Arcadia Mason Lodge in Arcadia, CA. For more information go to https://www.cactuscatscatclub.com/
The "Give Thanks Show" held by KatKnappers, will hold the last show of the season in the SW, November 10-11 in Arcadia, CA. The event will feature a holiday goodies table, Rosette decorating contest, free congress and a lot to be thankful for with Felines, Fun and Friendships.
A list of all TICA SW Regional shows can be found online at https://www.ticasw.com/calendar.php
Giving a Helping Hand: The TICA SW region is raising funds to help care and place the cats bred by longtime SW Ragdoll & Siberian breeders Cynthia and Peter DeWolfe after their recent passing. Donations will go help Mark and Peggy Schidler care and place all the cats, including vetting, spaying/neutering, registrations, and locating each cat's appropriate paperwork. Donations are being accepted in any monetary denomination can be made online at paypal@ticasw.com.