There is no translation available.
Showing Household Pet Cats and Kittens
Many people become interested in showing after attending a cat show. You don't have to be a cat breeder yourself to get into the show habit and join the fun world of exhibiting. TICA has a Household pet class for adults and kittens who can compete without registration numbers. So you don't have to have a pedigreed cat to join in on the fun. You can go on to even register that kitty and earn points and titles and even larger awards if you would like to! Just contact your Regional Director or visit a show in your area for more information. Household Pets compete in a class all their own and they compete against each other for top awards as do the pedigreed cats.
TICA welcomes Household Pet exhibitors. Household Pets have their own unique Standard and titles which are comparable to pedigreed cats. Household Pets are judged primarily on condition, beauty, and show presence. Beauty is in the eye of the beholder, and colors and patterns are often a whim of Mother Nature.
What Sets TICA Apart?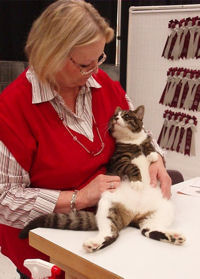 Almost any cat can be shown. Minimum age is 4 months, there is no maximum. Almost all associations require that adult Household Pets (over 8 months) be altered. TICA allows declawed cats to be shown. TICA allows cats with physical handicaps, such as three legs or one eye, to be shown.
Should my cat be shown?
Is your cat in good health? Is it reasonably willing to be handled by strangers? A cat in poor health should not be shown. As to the handling, one cannot always be sure. If your cat tends to be friendly, you will probably do well. However, an occasional lover turns to a tiger in the show ring. The opposite sometimes happens as well - the tiger turns tame in the show ring because it's all so overwhelming. So, if your cat's in good health - why not give it a try?
How do I get ready for a show?
Be sure your cat gets a good balanced diet and exercise. If you have the opportunity, get your cat used to being handled by strangers. If it hasn't had it's shots, be sure to get them. It is imperative for your cat's health and the health of the competition that all routine feline vaccinations be up to date. Try to get this done a few weeks ahead to allow time for any unexpected reaction to pass.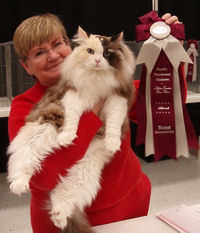 A day or two before the show, clip the claws on all four feet. This can be done with human nail clippers or with special scissors from a pet shop designed specifically for this task. You may be able to do this by yourself or you may need another person to assist if you have a "squirmer".
Where are the shows?
There are shows held all around the world every weekend. Look for the show listings here.
All TICA shows have a division for household pets. When you find a listing for a show near you, on a date you can attend, contact the person listed for entry information. Entries for shows close 2-3 weeks before the actual show date to allow time to type the catalog and judges' books and to get the catalog printed, so be sure to allow sufficient time. (You will find that after you've attended a few shows, your name will suddenly find its way onto mailing lists and you won't have to write to ask for information as frequently.)
Download our Brochure (PDF)
TICA World of Cats Visitor Guide
(Visitor Guides can be ordered from the Executive Office for free by submitting a ticket in the ticketing system)
Show Photos By Laura Holland