詳細

カテゴリ:

TICA News

参照数: 1833
There is no translation available.
As Time magazine said in recent story, "It seems that it's no longer just a dog's world at the Westminster Dog Show."
For the first time in the history of the 141-year Westminster Dog Show, cats shared space with dogs on New York City's Piers 92 & 94 as they took part in this year's AKC Meet the Breeds, an informational companion event to Westminster showcasing various dog and cat breeds. Participation in this year's Meet the Breeds marked the return of TICA cats after a three-year hiatus from the event.
"We have heard people's demands for the cats. And they returned," said Brandi Hunter, a spokeswoman for the American Kennel Club.
During Meet The Breeds more, than 15,000 spectators pet and played with 39 different TICA cat breeds and household pets while mingling with enthusiasts to learn more about the history and distinct characteristics of each breed.
詳細

カテゴリ:

TICA News

参照数: 2089
There is no translation available.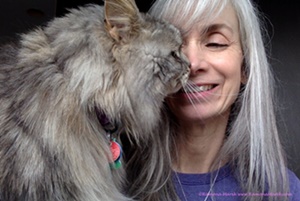 Award-winning author, Ramona D. Marek, MS Ed. is a life-long cat lover who grew up writing fantasy stories about animals. More recently, her work about the mystery, myths and misunderstanding of cats and other animals, has been published in many outlets including Animal Wellness, Catnip (Tufts), Cat Talk, CatWatch and DogWatch (Cornell), CAT FANCY, and pet retail trade Pet Product News International.
Ramona grew up with dogs as pets and while in high school, along with her siblings, devised a supreme master plan to add a cat to their family. Today she is the owner of a 12 year-old Siberian named Tsarevich Ivan and nine year-old Natasha Fatale.
TICA recently talked with Ramona about her cats and how her love for animals inspired her to become an award-winning author. Here's what she had to say…
詳細

カテゴリ:

TICA News

参照数: 3068
There is no translation available.
The intersection of scientific research, feline enthusiasm and practical solutions took center stage in La Plata, MD, June 17, 2017, during the Capital Cat Club's Mid Atlantic Feline Education & Cat Show