There is no translation available.

---
In This Issue
Annual Canine and Feline Genomics Conference Update | Can Saliva Determine Food Sensitivity In Cats | New Tool Against Diarrhea in Cats | Scientifically Examining Breed Personality Traits | Monitoring Blood Pressure in Cats | Purrsuing FIP and WINNing!
---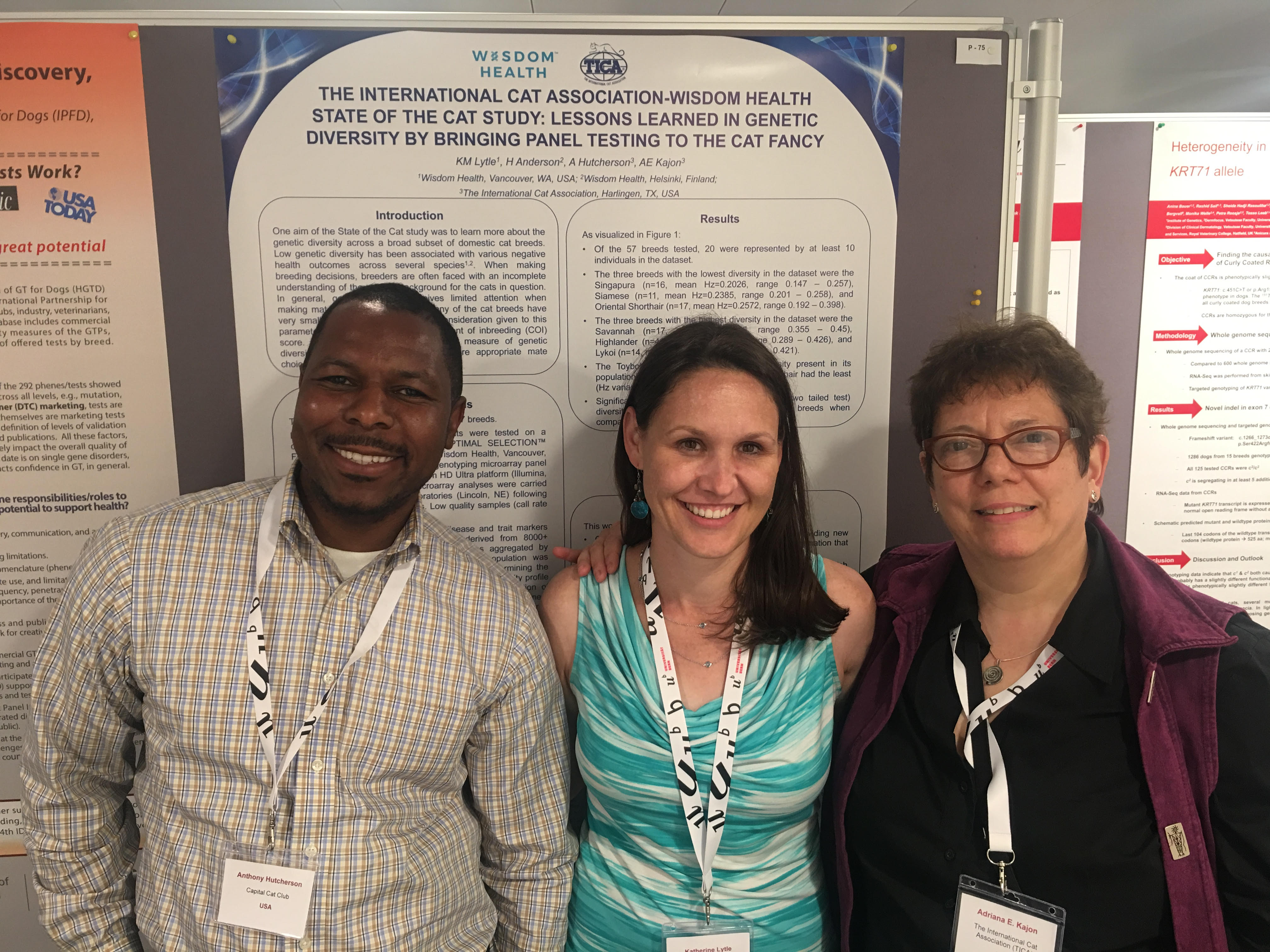 Annual Canine and Feline Genomics Conference Update
In May, leaders in cat and dog genetics from throughout the world gathered, as they do every other year, in the historic Swiss city of Bern Switzerland for the 10th Canine & Feline Genetics and Genomics Conference. TICA, Nestle Purina, and a host of genetics companies sponsored the dynamic event that offered groundbreaking new information on HCM, coat color, cancers and the very origin of domestic cats.
Over the course of three days, more than three dozen presentations of new- and ongoing research in the categories of Genome Biology, Population History, Cancer, Evolution, Behavior, Ophthalmology, Mendelian traits, Coat color and Metabolism. Chris Kaelin, PhD, senior scientist at Stanford University and the Hudson Alpha Institute presented findings from his nearly decade long collaboration with Bengal Cat breeders. Analysis of the genomes of hundreds of Bengal Cats allowed Dr. Kaelin, together with his colleagues Kelly McGowan, PhD, Anthony Hutcherson, Hermie Manuel and Greg Barsh, PhD to make new discoveries.
Wisdom Health and TICA partnered to present initial findings from the "State of the Cat" study, encompassing the genetic analysis of more than 1,000 TICA registered cats. This research provided insight into genetic heterozygosity and allelic frequency of traits and diseases across many breeds. The primary investigator, Katie Lytle, DVM offered, "Utilizing science and technology to augment the abilities of cat enthusiasts to preserve and maintain healthy breeds is a core mission of Wisdom Health".
Resources from Wisdom Health, TICA, and the TIFF Jean Mill Feline Enthusiast Scholarship allowed poster co-author and TICA Allbreed judge Adriana Kajon, PhD and Anthony Hutcherson so share in the excitement of the posters presentation at the conference. View the poster here
The next conference will be held in 2021 in Huntsville, Alabama hosted by the Hudson Alpha Institute.
---

Can Saliva Determine Food Sensitivity In Cats
Cats, like people and dogs, can have adverse reactions to a variety of food. Determining which food ingredient is causing vomiting, diarrhea, itching skin, and even hyperthyroidism can be challenging for cat owners and their veterinarians.
Recently the peer reviewed scientific journal Animals published "Diagnosis of Feline Food Sensitivity and Intolerance Using Saliva: 1000 Cases". The study of mostly North American spayed and neutered cats used a saliva-based immunoassay of IgA and IgM (two types of antibody produced in response to an antigen) obtained through the use of dental cotton rope by veterinarians. Salivary antibodies elicited from 24 of common cat food ingredients were measured. Read the full study and an example of how one obese cat's diet change based on these findings here.
---

New Tool Against Diarrhea in Cats
One of the most common causes of lower bowel diarrhea in cats is Tritrichomonas foetus, a single cell protozoa that until the ground breaking work of Jody Gookin, DVM PhD was thought to only live in cattle. T. foetus infections were routinely misdiagnosed as giardia, coccidia or inflammatory bowel disease until Dr. Gookin's published research that begun in 1999. The difficult to identify parasite has only been successfully treated with the drug Ronidazole using a protocol identified by Dr. Gookin.
"The Effect of Enterococci on feline Tritrichomonas foetus Infection In Vitro", published by Dr. Gookin and colleagues from the University of Tennessee Veterinary College, Virginia-Maryland College of Veterinary Medicine and Texas A&M University Gastrointestinal Lab in the most recent issue of Veterinary Parasitology discusses how adding a probiotic to the diet of cats and kittens can inhibit and reduce the effects of T. foetus. Dr. Gookin referenced this study during the June TICA/CFA/WINN Feline Foundation Education show. You can find the study in the most recent issue of Veterinary Parisitology, which your veterinarian likely already has a subscription. Read more about the effect of Enterococci on feline T. foetus here.
---

Scientifically Examining Breed Personality Traits
As every cat fancier knows, each breed is unique. We often choose our pedigreed feline companions based on assumptions about that breed's temperament, Researchers have recently compiled data to support our anecdotal observations about the differences between breeds. Read more about feline breed personality traits here.
---

Monitoring Blood Pressure in Cats
Every time you go to the doctor, you have your blood pressure tested. Why don't we do the same with our cats? This important indicator of health is re-examined in an article from the American Animal Hospital Association, Read the article here.
---

Purrsuing FIP and WINNing!
A comprehensive examination of diagnosis, treatment, prevention and management of FIP will be presented at the WINN Feline Foundation FIP Symposium, November 16-17 at the University of California, Davis. TICA will join partners Dr. Elsey's and Kindred Bio as sponsors of the event alongside Zoetis, Anivive, Royal Canin, and the Cat Fancier's Association.
Confirmed participants include Neils Pederson, DVM PhD, Leslie Lyons, PhD and Diane Addie, DVM PhD among other investigators, researchers, clinicians and cat enthusiasts.
Additional details and registration information can be found online here. A live stream of the presentation is available for those unable to attend in person.