There is no translation available.
Name: Lesli Anne Rose

City: Hagersville

Province: Ontario

Country: Canada

Zip: N0A 1H0

Phone: +1 (905) 379-4489

Email: lesli@lesli.com

Website: rare-n-bare.com
Expires 5/1/2022 • Renew
Problem with your listing? Email TICA
Disclaimer: The International Cat Association, Inc.® (TICA®) Does Not Endorse any of the breeders, products, or services on this page unless otherwise noted. Please read our Disclaimers.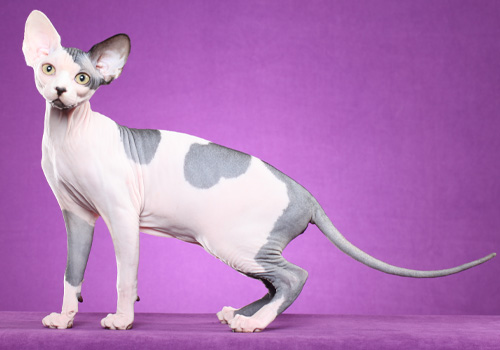 Accepted For Championship in TICA in 1979
---
---
Best of Breed: Sphynx

Click on thumbnails for larger image





Best Sphynx Of The Year
LA BW SGC BALDFANTASEA U PUT ME ON THE SPOT
BLACK/WHITE
Owner: KATHRYN W SOTTILE
Breeder: KATHRYN W SOTTILE


Best Sphynx Kitten Of The Year
RW BW DNILESPHYNX MOONLIGHT KISSES
WHITE
Owner: APRIL LEITTE
Breeder: APRIL LEITTE

Best Sphynx Alter Of The Year
IW BW SGCA BORYA SAUSAGE AND PEANUTS
BLACK/WHITE
Owner: VICTORIA TAYLOR
Breeder: SHAUNTAY BURRIS/LINDA EPP