In This Issue
From the President's Desk: A Message from TICA President Vicki Jo Harrison | TFMS Updates: Find Recently Added Items and Learn Tips and Tricks to Help You Navigate TFMS | TICA 2021 Annual Awards Open for Reservations! | Warning: Check TICA Trophy/Rosette Orders to Ensure Current Logo Use | TICA Club Sponsorship Monies Available | TICA Partner Spotlight: A Talk with Trupanion | TICA Congratulates Sleepypod on 15 years of Keeping Our Cats Safe | Retired TICA Show Cat Receives Cat Hero Award in Belgium | TICA Science Newsletter Extra: Cat Color Pattern Development & Ticked Tabby Gene | The 4th Annual NY Cat Film Festival ™ Returns This October | EveryCat Health Foundation: October 2021 Update | In Case You Missed It… | TICA May Breed of the Month: Sphynx | TICA Regional Updates
---

From the President's Desk:
A Message from TICA President Vicki Jo Harrison
Hello My Fellow TICA Members!
These are exciting times for TICA. The TICA Feline Management System (TFMS) launched on September 14th. The new system provides many of TICA's services in a self-service format. All that you could do in TDS is now available in TFMS and more (with even more to come)! Read more about how we listened to your concerns and recently added the ability to upgrade your case with "rush service" in this newsletter.
If you have not already created your TFMS account, I encourage you to do so. Make sure to use the same email address associated with your TDS account when creating your TFMS account. You will need to request/create a new password, when setting up your new account. All your information was migrated to the new TFMS, excluding passwords. This ensures that all your cats' data from TDS will be in your new TFMS account. There are instructional videos available for you to watch to help you maneuver the system and learn about all the great TICA services that are available for you.
The ballot for the TICA election will be out sometime later this month with several proposals for you to consider. Please read through all the information on the proposals. In addition to an explanation of each, the pros and cons are listed for each proposal. The members of the Northeast, Mid Pacific, Southwest, Europe West, and South America regions will be electing their respective Regional Directors. TICA is a member driven association. Please exercise your right to VOTE!
I am happy to report that the final details for the Awards Presentation for the 2020-21 International and Breed award winners are complete. The event will be held at the Houston Marriott South in Houston, Texas, USA on January 29, 2022. We will gather to honor the "Shining Stars of TICA!" Read more about the event, including information on hotel and banquet reservations. I hope to see many of you there.
As always, I wish each of you good health. Please stay safe and hug your kitties tight!
Vicki Jo Harrison
TICA President
---

TFMS Updates: Read Recently Added Items and Learn Tips and Tricks to Help You Navigate TFMS
TICA has listened to your concerns and recently added the ability to upgrade your case with rush service! A green button in the upper right corner of the case screen has been added to upgrade your case to rush service. This addition resulted from client requests not being able to submit a litter registration with rush service or upgrade it afterward. Learn more about this new feature.
"We continue to work with members and clients to help them navigate TFMS and have added new features to the system as a result," said TICA Chief Operating Officer Danny Nevarez. "Before calling the executive office, please visit TICA's YouTube Channel to watch the brief and informative training videos that provide step-by-step instructions to guide you through many processes, such as how to register a litter, order a pedigree, request service, breeder listings, breeder ads, and captions and translations among others. New videos are being added daily, so to save time, check back before calling."
---

TICA 2021 Annual Awards Open for Reservations!
TICA's 2021 Annual Awards will be held January 29, 2022 in Houston, Texas. The theme is "Celebrating The Bright & Shining Stars of TICA."
The website is now live with full details and is open for banquet reservations
---

Warning: Check TICA Trophy/Rosette Orders to Ensure Current Logo Use
It has come to TICA's attention that some trophy/rosette companies are not using the current TICA logos put in place in 2017.
Please check your trophy/rosette orders and make sure you are using the current TICA logo's. Current logos include a registration mark to the bottom right of the "A" in the acronym TICA. Font styles and verbiage below certain logos have all been updated as of 2017.
---

TICA Club Sponsorship Money Available
As of the winter 2021 Board meeting, TICA's Marketing Department has distributed sponsorship funds from Dr. Elsey's Cat Products to more than 45 TICA Clubs.
Among them, 39 U.S. shows, totaling more than $17,500; four Europe shows, totaling more than $2,000; and two new clubs – PracTICAl Cats of Missouri and Cat Lovers of America from Seekonk, MA – were provided $2,000 to fund their first shows. Show sponsorship funds are available to all TICA clubs. The program is very time sensitive and requires a great deal of oversite to deliver appropriate funds properly to clubs and the funding sponsor. This program would not be as effective if not for Jean Wagner! Jean spends time daily facilitating this program for TICA Clubs. Thank you Jean!
Any clubs interested in participating in TICA's show sponsorship program should visit the sponsorship information page and complete the form after reviewing the requirements.
---

TICA Partner Spotlight: A Talk with Trupanion
TICA is proud to be a partner with Trupanion, medical insurance for pets. Trupanion's staff is comprised of veterinarians and doting pet owners whose mission is to help the pets we all love receive the veterinary care they need.
TICA recently had the opportunity to connect with one of the company's pet-loving leaders, Chloe Gill, who is head of Trupanion's Breeder Support Program. She answered a few questions about the work Trupanion is doing to support veterinarians, breeders, and pet owners alike.
Q: You've been with Trupanion for almost ten years. What makes you so passionate about pet insurance and the work you do? Chloe Gill: I've been an animal lover my entire life and have had cats ever since I was young. Growing up, the high cost of veterinary care was a challenge my family had to face when treating our pets. Our company's founder, Darryl Rawlings, has a similar story that motivated him to create Trupanion. I'm honored to be doing this work and think insurance is an important tool for keeping costs predictable across a pet's lifetime.
Q: How does Trupanion partner with Breeders to promote healthy cats and knowledgeable pet ownership? CG: Breeders want the best for their animals and are in a unique position to speak with buyers about the importance of insurance. They can also have a lasting impact on families by helping to provide access to coverage options early in a pet's life. One of the ways we work with Breeders to do that is through our specialized Breeder Support Program.
Q: Can you tell us more about how the Breeder Support Program works? CG: We provide our breeder program members with Go Home Day Offers, which lets them send their buyers home with an offer for a full Trupanion policy. We also have licensed account managers that support all our breeders one-on-one. Our goal is to help our breeders strengthen their breeding program and send their kittens home with their best paw forward. Joining our Breeder Support Program is completely free. Interested breeders can sign up by visiting our website.
Q: No breeder or pet owner can raise a healthy cat without the help of their veterinarian. What work is Trupanion doing to support the veterinary hospital world? CG: Any way that we can support veterinarians is important to us at Trupanion. They are the ones on the front lines providing the care our pets need. We are really excited about our game-changing software that lets us pay veterinary hospitals directly at the time of checkout. This is also a huge advantage for pet owners because it allows them to just pay the difference at the end of their visit rather than waiting to be reimbursed. You can check to see if your veterinary hospital is set up for direct pay with Trupanion by clicking here.
Q: Is there anything else you'd like to share with our TICA members? CG: We greatly value our ongoing partnership with this world-renowned organization. Receiving TICA's Endorsement of Excellence is an honor for Trupanion, and we appreciate the work everyone does in this space to promote responsible cat breeding and ownership!
To learn more about Trupanion and their Breeder Support Program visit their website, call 855.266.2154, or send an email to Breeder@Trupanion.com.
Terms and conditions do apply. See Trupanion's policy for full coverage details.
Trupanion is a registered trademark owned by Trupanion, Inc. Underwritten in Canada by Omega General Insurance Company and in the United States by American Pet Insurance Company, 6100-4th Ave S, Seattle, WA 98108. Please visit AmericanPetInsurance.com to review all available pet health insurance products.
---

TICA Congratulates Sleepypod on 15 years of Keeping Our Cats Safe
Celebrate with 30% off on Oct. 15
October 15 marks 15 years that Sleepypod has been keeping our cats safe and comfortable. From crash testing every carrier and car harness to tensile testing your leash and collar line for strength, TICA thanks you for making pet travel safer and for your continued support of TICA and our programs. Sleepypod has been a TICA Endorsement of Excellence recipient since February 2018.
Read more about Sleepypod and their 15th Anniversary.
---
Retired TICA Show Cat Receives Cat Hero Award in Belgium
Last month, retired TICA show cat BW LA SGCA Chemicoons Theo's Belgian Pride Jase earned top honors as 2021 Cat Hero in the country of Belgium.
After retiring from the TICA show ring, Jase and his human Veerle Vandenabeele put their talents to use to help others and underwent a training program to become certified as a therapy cat. While therapy dogs are more common in Belgium, therapy cats are very unusual and hard to find. Veerle says Jase enjoys brightening people's days with his visits and are working on his TICA Therapy Cat program to obtain his TICA Therapy Cat titles.
Therapy animals are trained with their handlers to achieve specific physical, social, cognitive, and emotional goals with patients. Studies have shown that physical contact with a pet can lower high blood pressure, improve survival rates for heart attack victims and release endorphins in the body that help suppress pain.
TICA is the first cat registry where teams of cats and owners can earn titles, certificates, and badges for their feline by registering as a Therapy Cat and volunteering as a team.
Volunteering with your cat as a Therapy Team is a rewarding way to make a difference in the lives of hospital patients, nursing home residents and even neighbors who are no longer mobile. Learn more information on TICA's Therapy Cat Program or learn how you can get involved.
---
Chris Kaelin, PhD presenting feline genetics at a TICA cat show
TICA Science Newsletter Extra: Cat Color Pattern Development & Ticked Tabby Gene
By Anthony Hutcherson
Greg Barsh, MD PhD, Chris Kaelin PhD and Kelly Mc Gowan PhD recently published "Developmental Genetics of Color Pattern Establishment in Cats", a groundbreaking new insight into cat fetal development and color pattern establishment, including the newly identified genetic variants for ticking, in the scientific journal Nature, Sept. 7 2021.
All three scientists have extensively studied, discovered, and published research on the genetic variants, mechanisms, and pathways responsible for beautiful diversity of colors and patterns. Read more in the open access article.
TICA Members, CFA participants, feral cat advocates, pedigreed cat breeders, and enthusiasts contributed samples for the research covered in September 2021 that was published in The New York Times, National Geographic, Popular Science, CNET, among other outlets.
I recently had the opportunity to talk with the authors on their findings for the December 2021 issue of TICA's Science newsletter. The issue will feature a rundown of the all the new feline variants, mutations and genes identified 2019 – 2021. Here's a sneak peek into our conversation:
Q: Your research presents a pivotal developmental period in color pattern determination in cats. How much of what you determined is applicable across all breeds and all species of cats? Chris Kaelin PhD: Mutations in the tabby gene alter color patterns, not only in (domestic) cats, but also in cheetahs and tigers. The article "High frequency of an otherwise rare phenotype in a small and isolated tiger population" is strong evidence that the same genes and pathways are responsible for color patterns in all cat species.
Q: Based upon your ongoing research including analysis of thousands of cat genomes, refining fetal feline developmental stages and seeing so many cats in person, how surprising were these findings for you and your colleagues? Kelly McGowan PhD: For a long time the research felt like a jigsaw puzzle with a missing piece. The Dkk4 gene was the missing piece that connected the developmental studies to the genetic studies in a way that revealed a tremendous amount about how color patterns form.
Q: Feral cats, shelter cats, rescue cats, Abyssinians, Bengals, Burmese, Egyptian Maus, Ocicats, Oriental Shorthairs, Savannahs and Singapuras were mentioned in the Nature article. How important is the cat community such as pedigree cat breeders, enthusiasts, non-pedigree owners & advocates, in your ongoing research? Chris Kaelin PhD: None of the research is possible without the collaboration and support of the cat community. We are incredibly grateful to TICA and the many cat breeders who have participated over the years.
Q: How can interested people keep up with your work or participate in future research? Greg Barsh, MD PhD: Please reach out by email (kaelin@stanford.edu, gbarsh@hudsonalpha.org). We are always excited to share our research or talk about unusual color patterns in cats.
For more information about the fascinating genetic pigment and pattern discoveries by this team and other researchers listen to the first season of the podcast "Tiny Expeditions" on your favorite podcast streaming platform.
Dr. Chris Kaelin will also be presenting an educational seminar in conjunction with the Tabby Tail cat show, December 3-4 in Exton, PA. Stay tuned for more updates.
---

The 4th Annual NY Cat Film Festival ™ Returns This October
After a brief hiatus as a result of the COVID-19 shutdown, the 4th Annual NY Cat Film Festival will return this fall. The event, presented by pet wellness advocate and radio host Tracie Hotchner, will premiere in New York City on October 16, and then show in Landmark theaters throughout the U.S. on October 27.
The NY Cat Film Festival™ will include a number of films that tell stories of the enduring and heartwarming bond between people and pets through animated, narrative, and documentary films. Several films in this year's Cat Film Festival tell stories of cat owners from across the globe and their experiences with their feline companions during the tough times of COVID-19 lockdown.
After the festivals' NYC premiere, Landmark Theatres will run the festival in the following theaters throughout the U.S. on October 27, 2021:
Albany, NY
Atlanta
Berkeley
Bethesda
Cambridge
Chicago
Denver
Indianapolis

Los Angeles
Milwaukee
Minneapolis
Philadelphia
St. Louis
San Diego
Shoreline, WA (Seattle)
The festival will continue showing throughout the fall and winter in additional cities. For showtimes in your area visit www.landmarktheatres.com.
For more information and tickets, visit www.catfilmfestival.com. A portion of each ticket on the national tour will benefit a local feline rescue.
---

EveryCat Health Foundation: October 2021 Update

CURES4CATS: EveryCat Health Foundation's Cures4Cats Campaign is on now through October 17th. This year highlights Feline Hypertrophic Cardiomyopathy. The money raised will be earmarked specifically for HCM health studies. This year, includes a matching fund, given in honor and memory of "Bu". Every dollar donated up to $30,000 will be matched! Help EveryCat Health Foundation meet the goal of $30,000 so they can provide $60,000 in funding for HCM studies!
October 14 Webinar: Join EveryCat Health Foundation on October 14th, 2021 at 1:00 pm EDT for "Feline Cardiomyopathy" with Dr. John Rush, DVM, MS, DACVIM, DACVECC. Read more about the webinar and register online.
---

In Case You Missed It...
Check out TICA's top social media posts you may have missed...
On TICA's Instagram:
Kitty Need a Canine Companion? Learn the Best Breeds for the Job.
On TICA's Facebook:
A Young Man Found the Purr-fect Prom Date
On TICA's Twitter:
At Home Treatment for FIP Works!
---

TICA July Breed of the Month: Sphynx
Named after the famous Egyptian monument featuring the mythical creature with the head of a human and the body of a lion, the Sphynx cat breed will entertain themselves and their humans for hours with their inquisitive, intelligent, and extremely friendly personality. Known for its hairless coat, those who pet a Sphynx know that they're not actually hairless. They are covered with a fine layer of downy fuzz that has a soft, suede-like feel. Loyal and dedicated to their owners, they make very affectionate companions for everyone. The Sphynx is available in a variety of colors and patterns. Find out more about this breed and if a Sphynx is right for you and your family.
---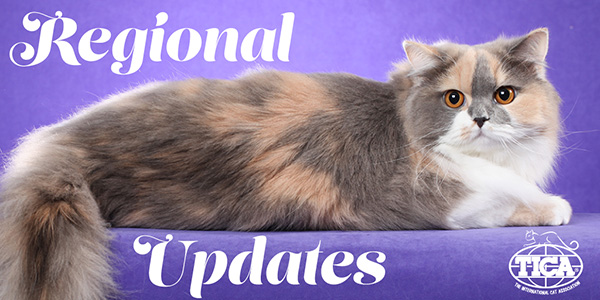 TICA Regional Updates
---
TICA Great Lakes Regional Director Liz Brown:
TICA GL Treasury Balance: The GL treasury balance is $3841.96 (pending $324.78 in PP transfer). Thanks to the clubs who donate $1/entry. Recent payment for awards of $2035.32 for trophies and plaques for 2021 winners.
Mark your calendars for the following shows:
October 16-17, Buckeye Ohio Rollers in Wooster, OH.
January 15-16, 2022, pracTICAl cats in Gray Summit, MO.
December or January HCM Clinic: To be held in Madison, WI, with a board-certified cardiologist. Cost will be approximately $260/cat. Please email Liz with your interest. TICAGLRD@gmail.com

2022 TICA Annual in Chicago: HERE WE GO!!! T-shirts, quilts, and next level entry specials through November 1, 2021. Hotel block is open! www.ticaannual.com
---
TICA Mid Atlantic Regional Director Brenda Russo:
Hurricane Ida's MA Region Impact: One of our MA members, Robin Berman, has had a catastrophic flooding event because of hurricane Ida I would like to ask anyone that can donate to please do so. We need to come together as a Region so we can help Robin get through this troubling time. She did not have flood insurance and they are still waiting to hear from FEMA and at some point, may need some helping hands to rebuild. Please send any monetary contributions to MA regional PayPal as "GIFT" to midatlanticpaypal@gmail.com.
Quilt Fundraiser: In addition to asking for donations, I have made a quilt to help raise money for Robin. I will be advertising the quilt on the Tabby Tales website. Stay tuned for more details.
TICA 2020 & 2021 Awards: Most awards have been sent to members who have requested them. If you would like your awards and you have not touched base with me, please contact me at Blrusso@comcast.net. Please note, awards will be held until Nov 1, 2021. After that, the rosettes will be offered to MA. Unfortunately, the plaques will be thrown away after November 1, 2021 to make space on my dining room table for the holidays!
Recorded Regional Meetings: For those of who are still not comfortable attending events, regional meetings will be recorded so everyone can stay up to date.
Help Us Grow the Fancy: Now that we are somewhat getting back to normal and having more shows, I would like to ask everyone to consider helping encourage new exhibitors and volunteering as a mentor. If you are a breeder, you have the perfect opportunity to nurture new TICA exhibitors. Breeders, think about offering a 20% discount off an entry if a new member attends and shows a cat with you. Clubs, consider offering free grooming space, or 20% off any new exhibitors and 20% to existing exhibitors who bring a new person to the cat fancy. We all need to put on our thinking caps and come up with innovative ways to encourage new cat fancy participation!

TICA South America Regional Director Luiz Paulo Faccioli:
Get Excited: After two years, the wait in the TICA South America Region is finally over! TICA SA Region will hold its first show since the COVID pandemic November 13-14, 2021 in Rionegro, Colombia. Los Gatos Vuelven a Show (translated meaning "The Cats Are Back to Show", presented by TICAddiction Cat Club and sponsored by Dr. Elsey's Cat Products, will feature 9SB and 6 AB rings. Read more information.
---
TICA Southwest Regional Director Canie Brooks:
Enter the November show put on by America's Finest Felines and Surf 'n Turf Cat Clubs. Enter in TOES for November 13 - 14 in Arcadia!
Let your voice be heard! Voting ballots will be arriving in October. Be sure to get out and vote for the Regional Director and decide on the Proposals.
Mark your calendars for upcoming Southwest shows:
A Fond Farewell: We would like to say farewell to Jean Wagner who has been a faithful Southwest member for many years. Jean has joined the Great Lakes region. She has contributed to the Southwest in many ways. We wish her well in her new ventures.