In This Issue
A Message from TICA President Vicki Jo Harrison | News from TICA 2021 Winter Board Meeting | TICA Marketing Update | TICA Appoints Eight New Breed Committee Members | Congratulations to Three Advanced Members to TICA Judging Panel | New TICA Board Appointees | Upcoming TICA Board Meetings Announced | Start the Year Off Knowing You and Your Cat are Covered For Even the Unexpected | TICA Website Warns Potential Cat Owners of Scams | Don't be Left Out of the Fun! Update Your tica.org Accounts | Dr. Elsey's Moves Cat Litter Production Facility to Wyoming | Pet King Brands Launches New Online Store | EveryCat Health Foundation February 2021 Update | TICA's top social media posts you may have missed... | TICA February Breed of the Month | TICA Regional Updates
---

From the President's Desk:
A Message from TICA President Vicki Jo Harrison
Greetings Fellow TICA Members,
The first TICA Board of Directors meeting of 2021 was held January 27th-29th. Many positive decisions were made for you, the TICA members. Recaps from the meeting are in this newsletter.
Several TICA members were appointed by the Board to serve on various breed committees. It is not too late for you to serve as a breed committee member. If your breed committee is inactive, contact Vice President Ralph Stadter at ralphstadter@gmail.com. He will help you through the process. If you qualify, he will add you to the list of members to be considered for appointment at the May Board meeting.
With the cancelation of the Annual Awards presentation twice, the Board of Directors made the decision to ship the awards to each recipients. The Executive Office will be sorting and shipping the awards as soon as they are received. If all goes as planned, they should be sent out by the first week of March. Check with your Regional Director for details.
There will be a special Board meeting on Wednesday, March 10th. Please look for an official announcement along with a posted agenda on the TICA website soon.
Everyone please stay safe and well.
Vicki Jo Harrison
TICA President
News from TICA 2021 Winter Board Meeting:

TICA Board Passes Four Proposals During Winter 2021 Meeting
The TICA Board meeting was held January 27-29, 2021 via Zoom. The following proposals were discussed:
The Board passed 'Breed Standard Change: Tennessee Rex' with one friendly amendment to change convex to concave in profile description.
The Board passed 'Amend Agreement to Judge' (Airfares).
The Board failed to pass 'Clerking Program' (marks on cage cards).
Proposals: Standing Rules:
The Board passed the motion to Amend 209.1.1.4 (Marked catalogs).
The Board passed the motion to Amend 106.4.1.2 and 1017.1 (Genetics review of Proposals).
The Board failed to pass 309.2.1 (Accepting non-TICA pedigrees). It will be reworked and go through Rules to include an appeal option for the club.
The Board failed to pass 1021.3 (Chartering new clubs).
Proposals: Registration Rules:
Motion to add 39.16 (Transfer documentation) was withdrawn for additional work.
The Board failed to pass the motion to add 310.3 (frequency of litters).
Download minutes from the 2021 Winter Board meeting for more details.

TICA Marketing Update
Last quarter TICA signed an exclusive partnership with Trupanion medical insurance for pets and is in the process of negotiating a relationship with Royal Canin.
Due to COVID-19 restrictions, sponsorships are not complete for the year. Finalizations are still in the works on both the TICA (shows) and sponsor side of things. However, Dr. Elsey's Precious Cat Products, TICA's premier corporate sponsor, are still sponsoring 2021 shows.
---

TICA Appoints Eight New Breed Committee Members
Last month during the winter Board meeting, TICA appointed eight Breed Committee members to groups that were/are not full and inactive in hopes of making the committees active. Join us in congratulating the following:
Abyssinian: Steven Corneille
American Shorthair/American Wirehair Breed Group: Margaret Mello
Birman: Judith Milling
Chausie: Tammy Isaacs
Donskoy: Kathryn Eden and Megan Duffy (Eden as chair)
Peterbald: Aldolfo Gonzalez Marques
Toybob working breed chair: Jullie Ollis
Several candidates did not meet the eligibility criteria by the start of the meeting and have been moved to the Spring meeting agenda. If your committee is not filled and you are interested in being considered at the Spring meeting, please contact TICA Vice President Ralph Stadter at vice.president@tica.org.
---

Congratulations to Three Advanced Members to TICA Judging Panel
Please congratulate the following advanced members to the TICA Judging Panel as voted upon by the TICA Board of Directors during the 2021 winter meeting:
Provisional AB: Angela Sherzer (USA)
Approved AB: Amanda Bright (USA)
Ring Instructor: Karen Stinson (France)
---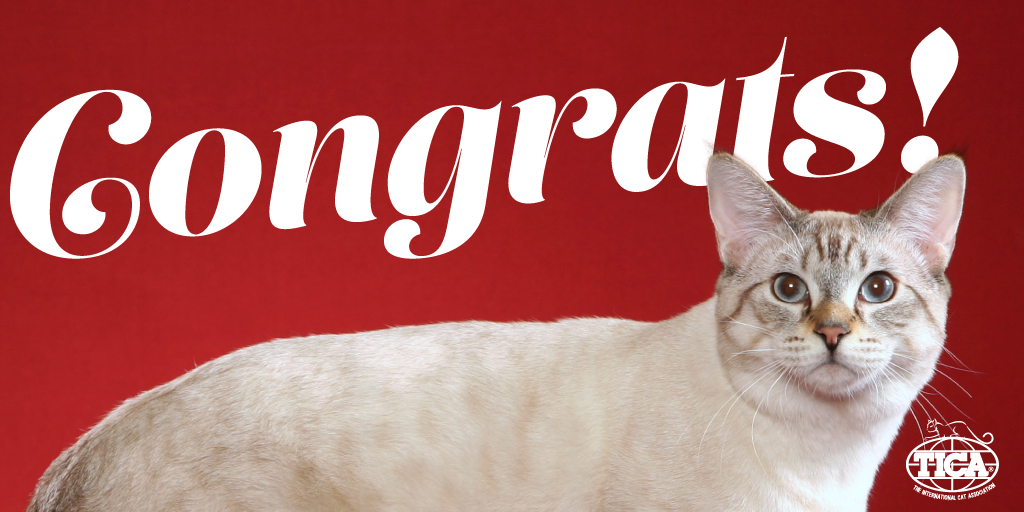 TICA Board Appoints New Judging Administrator
and Deputy Judging Administrator
The TICA Board of Directors appointed Carlos Lopez as TICA Judging Administrator and Connie Webb as TICA Deputy Judging Administrator. The Board and TICA Judging Panel would like to thank Katharina Krenn for her time serving as Interim Judging Administrator.
---
Upcoming TICA Board Meetings Announced
A special Board meeting will be held March 10, 2021 via Zoom. The meeting ID will be 830 9460 6859 and passcode will be 355416.
The TICA Spring 2021 Board meeting will be held May 21-23, 2021 via Zoom. The proposals for changes to rules or policies must be received by the TICA Rules Committee by Feb 19. Any member can submit a proposal using the following form.
---
TICA NEWS BRIEFS

Start the Year Off Knowing You and Your Cat are Covered For Even the Unexpected
TICA is excited to continue its exclusive partnership with Trupanion, medical insurance for pets, with the goal of supporting responsible cat owners and breeders across the US and Canada. With a Trupanion policy, take comfort knowing your pets will be covered for new, unexpected accidents or illnesses that arise with no payout limits, ever.* In addition, the Trupanion policy offers:
One Simple Plan: All pets get the best coverage the Trupanion policy has to offer under one simple plan – no pricing tiers, no hassle.
Ability to Pay the Vet Directly: Trupanion is working to replace the outdated reimbursement insurance model with their patented software that can pay claims directly to participating veterinarians at the time of check-out, often within minutes.
24/7 Customer Care: There's never a good time for a pet's unexpected accident or illness, which is why Trupanion's team is available for you 24/7/365, no matter what.
If you're a breeder, Trupanion also has an exclusive Breeder Support Program! As part of this program, you will receive a special Trupanion offer for your buyers that provides waived waiting periods, materials for your kitten packs, and your own dedicated Account Manager – all at no cost to you. For more information about Trupanion's Breeder Support Program, click here.
*Terms and Conditions apply. See policy for details.
Trupanion is a registered trademark owned by Trupanion, Inc. Underwritten in Canada by Omega General Insurance Company and in the United States by American Pet Insurance Company, 6100-4th Ave S, Seattle, WA 98108. Please visit AmericanPetInsurance.com to review all available pet health insurance products.
---

TICA Website Warns Potential Cat Owners of Pet Scams in Response to Companion Animal Ownership Boom
Last year, the United States added 11 million new companion animal owners since the COVID-19 pandemic began. As a result, in an effort to educate how to avoid scammers, TICA posted disclaimers and warnings of pet scams, including suspicious activity potential pet owners should be aware of when looking for a cat to join their family, in the Breed section on tica.org.
---

Don't be Left Out of the Fun! TICA Reminds Members to Update Their tica.org Accounts
With the start of a new year, TICA reminds members to check their tica.org account to make sure it is up-to-date so they don't miss out on all TICA has to offer.
The information about members in your tica.org account is used when entering shows. Physical addresses are provided to the Executive Office and the email address listed is where all confirmations and important news about TICA is sent.
Updating your account is quick and easy. Just follow these four simple steps:
Login to tica.org
Go to My TICA > Change My Info / Password
Check your Contact Info and Address and make any changes needed
Click Update (if you have made changes) or Cancel (if everything looks good)
---

Dr. Elsey's Moves Cat Litter Production Facility to Wyoming:
New Facility Offers Dr. Elsey's Closer Access to Ingredient Source
Dr. Elsey's announced they completed their new production facility in the state capital of Wyoming and will be moving their cat litter production to the new space.
Located at Swan Ranch in Cheyenne, Wyoming, the brand's new facility offers closer access to the source of silver sodium bentonite clay and better access to the railroad system used for product transportation. The increase in space offers new opportunities for the brand to further expand its product line of solutions-based litter products for cats and meet the complex needs of pet owners. Learn more about Dr. Elsey's new facility.
---

Pet King Brands Launches New Online Store
to Sell ZYMOX® and Oratene® Pet Health Products:
10% Discount Offered to TICA Members
Earlier this month, Pet King Brands, Inc. unveiled their new online Zymox store. The new online shop allows pet owners the freedom to shop the full line of veterinarian and retail Zymox Dermatology and Ear products and Oratene Brushless Oral Care products for pets directly from the manufacturer's website, www.zymox.com.
To celebrate the launch of the new online store, Pet King Brands is offering TICA members and clients 10% off their purchase with code tica10 at zymox.com.
---

In Case You Missed It…
Check out TICA's social media pages to learn the latest news about cats. Here are some top posts you may have missed...
On TICA's Instagram:
TICA played a su-purr fun breed guessing game with followers.
On TICA's Facebook:
TICA celebrated the healing powers of cats with a witty comic.
On TICA's Twitter:
TICA introduced followers to Star Trek's Feline Stars, a pair of Maine Coon brothers named Leeu and Durban.
---
EveryCat Health Foundation (A WINN Feline Foundation Legacy) February 2021 Update
Winn Feline Foundation is now EveryCat Health Foundation: For those who haven't heard, the official name changed earlier this month and are now known as EveryCat Health Foundation. Read all the details here.
EveryCat Health Foundation and AAFP Offer Two Scholarships in 2021: For the fifth consecutive year, EveryCat Health Foundation and the American Association of Feline Practitioners (AAFP) announced they will be giving two scholarships for third- or fourth-year veterinary students enrolled in accredited veterinary colleges or schools in the United States or Canada.
Among the scholarships, one will be awarded to a veterinary student with an interest in feline practice and the other will be given to a veterinary student with an interest in clinical scientific research. The two $2,500 awards are based on academic achievement, financial need, leadership, and dedication to and excellence in the study of feline medicine, health, and welfare.
All completed applications with accompanying supplementary documents must be received no later than March 19, 2021. The two winning recipients will be notified of their award on or before April 20, 2021. Additional information, including applications and instructions, can be found on the EveryCat Health Foundation website.
EveryCat Health Foundation Announces Two New Grant Awards for Diet and Feline Kidney Health: EveryCat Health Foundation, in a special funding opportunity co-sponsored by Nestlé Purina Petcare and Mars Petcare, is calling for a second round of proposals in 2021 that address the effect that dietary phosphorus and calcium to phosphorus ratio have on renal health in cats. Approximately $400,000 is available to fund proposals of sufficient scientific merit, relevance and potential to impact feline health. The maximum grant amount is $50,000 for 1 to 2-year projects. The deadline for proposal submission for this second review is April 12, 2021.
The overall goal of such research is to provide evidence that will lead to scientific consensus on safe levels and types of dietary phosphorus for feline diets. High priority areas have been identified and will be given special consideration. These include:
Investigation of factors that influence phosphorus bioavailability and metabolism including source and form of phosphorus in foods.
Identification of biomarkers of renal injury, especially markers that detect early kidney changes.
Identification of in vitro assays that correlate within vivo function of phosphorus sources.
EveryCat Health Foundation's initial review of research proposals in November 2020 approved funding for the following two studies on this critical issue:
CaPK20-001 "Investigating the genetic basis of total body phosphate overload in cats with mild azotemic chronic kidney disease. "Principal Investigator: Dr. Rebecca Geddes; Royal Veterinary College, London, United Kingdom. $49,950.
CaPK20-003 "Impact of feline circadian rhythms on phosphorus and parathyroid hormone concentrations." Principal Investigator: Dr. Andrea Fascetti, University of California-Davis. $34,563.
Read more about each proposal and find guidelines and applications forms here.
---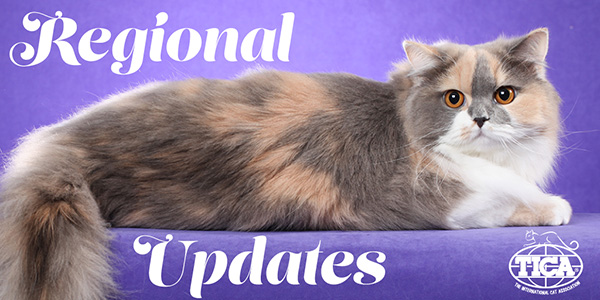 TICA Regional Updates
---
TICA Great Lakes Regional Director Liz Brown:
Things in the Great Lakes region continue to be quiet and somewhat locked down. I am glad to see some states are beginning to open-up and folks are being vaccinated. Unfortunately, our US-Canadian border is still closed.
Show Update: Due to continued health department policy, the rescheduled (and rescheduled) All About Cats Expo and 2020 GL Regional show in Columbus, Ohio, for May 2021 has been cancelled.
Please know we are working hard to find a location to host a mega event this summer where we can honor both the 2020 and 2021 winners. I will post more when we have it. In the meantime, stay well.
Feline Health: Please keep an eye out on both the regional Facebook page (TICA Great Lakes) and our email list (ticagreatlakes@groups.io) for information on upcoming, virtual feline health webinars.
HCM Clinic: I am working to schedule an HCM clinic with board-certified cardiologist Dr. Kellihan for May/June. Dr. Kellihan is an Associate Professor at the University of Wisconsin School of Veterinary Medicine. Our January clinic was a huge success and she is anxious to continue her work with our great TICA cats and members. Please contact me for information regarding the next clinic. Cost is $250/cat plus a $15/cat fee to cover the cost of the conference room used for the weekend clinic (the $15 is required at sign-up and is non-refundable).
---
TICA Mid Atlantic Regional Director Brenda Russo:
Mark your calendar for the following 2021 TICA Mid Atlantic shows:
Feb 27-28 United Cat Club - Richmond, VA
March 20-21 United Cat Club - Richmond, VA
April 2-4 Central New Jersey - Phoenixville
April 10-11 United Cat Club - Chesapeake, VA
July 23-25 MA Regional: Karousel Kat Club & United Cat Club - Morgantown, PA
February 27 Clerking School: Immediately following the United Cat Club show (Richmond, VA) on Saturday, a clerking school led by Vanadis Crawford will be held. The fee for the school is $12.00 per person, which includes pizza and drinks. Sign up is on the event summary sheet. If you have any questions, please contact Jessica Petras at unitedcatclub@gmail.com.
Photos Needed! Megan Gallaher is still missing photos for our 2020 Regional Awards PowerPoint presentations. Once the photos are received, a date for the presentation will be announced. Deadline for receipt of the photos is February 23, 2021. If you do not have a current photo, previous year photo or candid shots can be used. Make sure you have included your cat's name and his/her award placement. Photos can be sent to mlgallaher0192@gmail.com.
Thank You!! I would like to take this opportunity to thank the following MA members/clubs for all that they have been doing during these difficult times:
United Cat Club, Karousel Kat Club & Central New Jersey for offering cat show events during these complicated times. Emily Green and Anthony Hutchinson for their dedication in keeping us up to date on seminars and webinars regarding cat health and welfare.
Judy Bell for sharing her medical expertise regarding show hall health sanitation so that show managers can keep our event halls as safe as possible.
Gladys Dununsio, Gwyneth Hayes, and Courtney Bell for their tireless and supportive efforts to our animal welfare communities.
And a special thanks to all our MA members who serve their communities to make a difference and have kept the cat fancy alive through their everyday enthusiasm and love for their cats!
Stay well and safe! Hope to see everyone very soon!
---
TICA Northwest Regional Director Elaine Hawksworth-Weitz:
TICA NW Spring Virtual Cat Show: The TICA Northwest Region will be hosting another virtual cat show this Spring called "VirtualCatShowNW". The show will open for entries on April 1st and go through May 15th, with judging taking place May 22-25, and awards announced on May 30, 2021.
In addition to the traditional show classes, people will be able to submit entries in the six fun classes: Tiny tots, Cat-In-A-Bag (or Box), Napping Cats, Best Buds, What is my Cat Saying? and Rainbow Bridge.
The show is open to anyone in the world that would like to participate! People can enter any or all of the competition classes as long as the entry meets the eligibility requirements of that specific class and the corresponding fees have been paid.
We are also seeking vendors and sponsors for the event. If you are interested in participating as a vendor or sponsor, send an email to vendors-sponsors@VirtualCatShowNW.com.
More information about this fun event can be found online or on our TICA NW Virtual Cat Shows Facebook page.
Mark Your Calendars - Upcoming In-Person Cat Shows:
Mar 27-28 It's Reigning Cats — Longview, WA
Apr 23-25 SeaCats — Issaquah, WA
For more information on these shows, please visit https://www.tica.org/events/show-calendar.
TICA South America Regional Director Luiz Paulo:
The TICA 2021 Winter Board Meeting honored South America Regional member Carlos Daniel López by naming him TICA Judging Administrator. Carlos is a longtime TICA SA member and Ring and School Instructor, as well as one of the authors of the Judging Committee's project. Carlos served as Regional Director and under his term the Judging Program developed consistently in our Region. Surely Carlos will use his acquired skills as Senior Mathematic Professor in benefit of the growing of the judge's panel that is one of the greatest assets of our Association. What a venturous beginning of a year for South America!
---
TICA Southeast Regional Director Steve Lawson:
"TOGETHER WE CAN" - Today I am pleased to announce that all the TICA Southeast Regional Awards have been awarded to their owners.
In this challenging time, this was no small task and together, with the help of our SE members, the goal to have the awards in their rightful homes was made possible.