In This Issue:
From the President's Desk | New TOES Function | TICA Member Elections End Soon | Welcome New TICA Clubs| TICA CWA Award Winner Announced | TICA Show Cat Featured in Belgium Art Exhibit |Sleepypod Unveils New Calming Harness for Cats | EveryCat Health Foundation November Update | TICA GL Regional Update| TICA MA Regional Update | TICA NE Regional Update | TICA NW Regional Update | TICA SE Regional Update | TICA SW Regional Update
---

From the President's Desk: A Message from TICA President Vicki Jo Harrison
Dear TICA Friends,
In this issue you will find all the information eligible members need to vote in the TICA Fall Election. Please take the time to read the information in the article "Time is Running Out to Cast Your Vote in TICA's 2023 Membership Elections" and exercise your right to vote. TICA is a membership driven organization, so let your voice be heard through your vote!
This year there are four proposals for you to consider, the office of President and Vice-President are up for election as well as 50 breed committees
As always, I wish each of you good health. Please stay safe and hug your kitties tight!
Vicki Jo Harrison
TICA President
---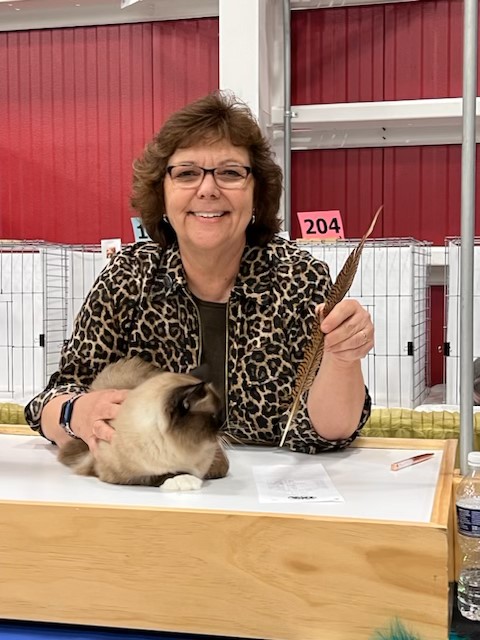 Introducing New TOES Club Functionality for Enhanced Show Listings
Earlier this month TICA introduced the "Information for Visitors" field on the TICA Online Entry System (TOES). Designed to enhance TICA show listings like never before, this exciting new feature will empower TICA clubs to provide a wealth of information to show visitors, making their experience more enjoyable and informative.
Read more about how the new "Information for Visitors" field can help your TICA club increase visitor attendance.
---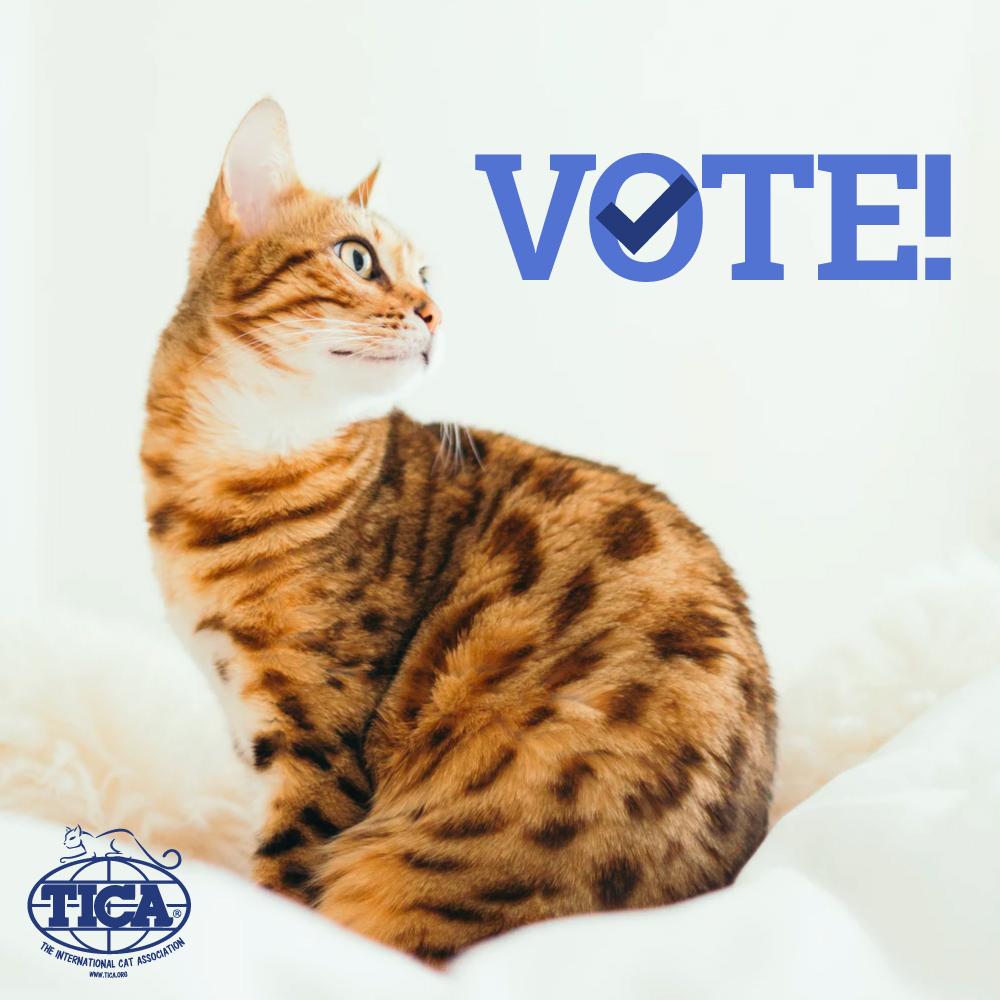 Time is Running Out to Vote in TICA's 2023 Membership Elections
Did you cast your vote yet in TICA's 2023 Membership Election? Your ability to vote ends next week (November 22, 2023, at 11:59 pm CST)!
This year the office of President and Vice-President are up for election as well as members for 50 breed committees. In addition, members will have the opportunity to vote on four proposals. Candidates for each position are listed online as well as some position statements for nominees.
Please read through all the information on each of the four proposals. In addition to an explanation of each, the pros and cons are listed for each proposal.
TICA members in good standing as of April 1, 2023, and have renewed their membership by June 30, 2023, are eligible to vote.
Ballots were emailed on October 23, 2023, to all members from "TICA Online" with the subject "TICA 2023 Election Open for Voting". Members who do not have an e-mail address on file with TICA's Executive Office have been mailed, via U.S. Postal Service, a notification with instructions how to vote online.
Questions about missing ballots, membership, election guidelines, or technical assistance with the voting process can be obtained by contacting YesElections at Help+TICA@YesElections.com or call (866) 384-9978.
Voting is an important and meaningful way to advance the issues you care about most and provides an opportunity for you to choose the representatives you think will best achieve the results you want to see within TICA.

---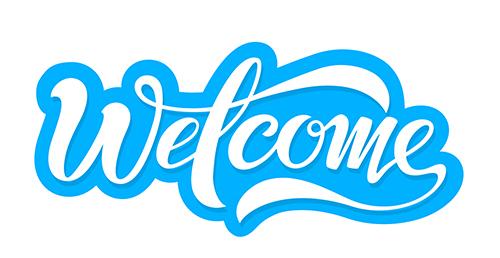 TICA Welcomes Three New Clubs in the TICA Southeast and Europe North Regions
Wherever you are, you are in TICA's world!
TICA continues to grow in 2023 with the addition of three new clubs: Fantastic Felines (Statesville, NC) in the Southeast Region as well as Futhark catclub (Sweden) and Sweeticats (Ugglarp, Sweden) both in the Europe North Region. Welcome!
TICA has clubs around the world and are a great way to mix and mingle with people who love cats as much as you do. There are more than 160 clubs in TICA's world with a diverse array of backgrounds, interests, and professions. By joining a TICA club you can make new friends with amazing people while attending TICA cat shows, participating in club activities, and volunteering.
If you're not already a member, then find a club near you and start the fun! Find a list of TICA clubs.
---
Phillip Mlynar Awarded TICA's Annual Kari Winters Rescue and Rehabilitation Award by Cat Writers Association
Last month, author Phillip Mlynar was honored with TICA's annual Kari Winters Rescue and Rehabilitation Award in the Cat Writers Association's annual Communications Contest.
Mlynar received the award for his article "Documentary Proves That Real Men Love Cats" that appeared in Catster. The article details the story behind the making of the 2022 heartwarming documentary Cat Daddies. The article delves into some of the stories of the nine men featured in the documentary whose lives were forever changed by their newfound love of cats.
Sponsored by TICA, the Kari Winters Rescue and Rehabilitation Award is presented annually to the best single article or column published in a newspaper, magazine, newsletter, professional blog/website online venue, or single radio or television broadcast on the topic of the rescue and rehabilitation of cats/kittens from shelters or rescue groups for the purpose of adoption to forever homes. Entries are judged on compelling personal accounts and the education of readers on the need for rescue.
---
Painting of Retired TICA Show Cat Featured in Belgium Art Show Exhibition
In October 2021 we brought you the news that retired TICA show cat BW LA SGCA Chemicoons Theo's Belgian Pride Jase was honored with the Miauwkes Award for being the most heroic cat in the country of Belgium.
Two years later, we're excited to announce that Jase was the subject of a painting by artist and originator of the Miauwkes Award, Veronique Puts that is featured in an exhibition of painted and drawn cats by the artist this month.
The painting of Jase was created without a photo, but rather in the artist's vision of how she sees Jase brightening the lives of others by volunteering as a therapy cat.
Jase was awarded the 2021 Miauwkes Award for volunteering as a therapy cat at Belgium care centers. While therapy dogs are more common in Belgium, therapy cats are very unusual and hard to find. The Miauwkes Award honors people who selflessly dedicate themselves to animals in need and is handed out each year by Belgium Animal welfare minister Ben Weyts and Veronique Puts in collaboration with Dag Allemaal, the most widely read magazine in Belgium.

The exhibition takes place November 10-19, 2023, at the Stein & Cedric Moermans Gallery in Antwerp, Belgium.
---
Sleepypod Introduces New Calming Harness for Cats
Last month, Sleepypod® introduced the Martingale Calming Harness, a two-in-one harness designed for anxiety relief and walking for cats and dogs.
The breathable mesh harness wraps around the body like a reassuring hug, helping to soothe a pet's fear and anxiety.
"Separation, illness, loud noises, and even visits to unfamiliar places are just some of the possible triggers of fear in pets," says Michael Leung, Sleepypod lead product designer and co-founder. "Sleepypod's new Martingale Calming Harness applies gentle pressure around a pet's body, creating a hugging sensation to soothe anxiety."
The unique product design incorporates a martingale feature to provide control of the dog or cat when used as a walking harness while helping to prevent escape. Like the martingale collar design, which is the preferred collar design of dog trainers, a martingale strap will gently cinch around the pet's torso when a leash pulls the D-ring.
For more information, watch this YouTube video of the Sleepypod Martingale Calming Harness at work.
---

EveryCat Health Foundation November Update
Join EveryCat Health Foundation with EveryCat Health Foundation's three upcoming Webinars:
Senior Cats & Helpful Stats: What You Need to know about CKD and BP - November 16, 2023, 1:00 PM EST. Join Ashlie Saffire, DVM, DABVP (Feline) as she reviews the senior life stage and what diseases are most encountered with a focus on chronic kidney disease (CKD) and hypertension. Saffire will discuss CKD and the benefits of early detection through annual diagnostics and the potential for a newly emerging tool that uses oral microbiome data to help identify at-risk patients for CKD. She will also discuss the importance of screening for feline hypertension, how to put this diagnostic tool into practice and how to interpret results. We will end with a discussion about the different medications available for treatment of hypertension and their indications.
This webinar is RACE approved for 1 CE Credit. Read more information and register online.

Feline Leukemia Virus (FeLV): How Real the Threat? December 5, 2023, 1:00 pm EST. This clinical update led by Richard B. Ford, DVM, MS will stress several key issues pertaining to the diagnosis, management, and prevention of FeLV infection. Emphasis will be placed on long-term patient management as it relates to pathogenesis of infection, interpretation of diagnostic test results, the practical side of vaccination decisions, and (new) use and interpretation of the latest testing platform to assess prognosis in the individual patient.
This webinar is RACE approved for 1 CE Credit. Read more information and register online.
Every Cat...Every Parasite - December 7, 2023, 1:00 pm EST. This presentation with Susan E. Little, DVM, PhD, DACVM will review the common ticks, fleas, and vector-borne infections that threaten feline health as well as discuss the cestodes and nematodes that infect cats with a goal of supporting veterinarians in their efforts to protect feline health. Zoonotic concerns and the impact of parasitic infection on the human-animal bond will also be discussed.
RACE approval is pending for this webinar for 1 CE Credit. Read more information and register online.
---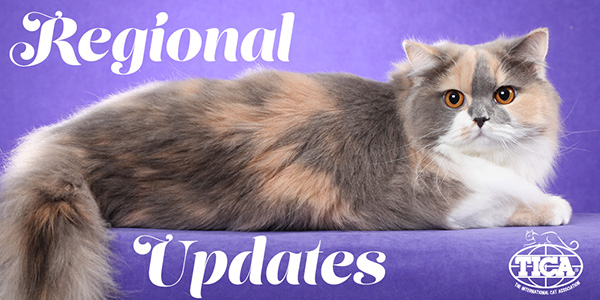 Photo by Helmi Flick
TICA Regional Updates:
TICA Great Lakes Regional Update
TICA Mid Atlantic Regional Update
TICA Northeast Regional Update
TICA Northwest Regional Update
TICA Southeast Regional Update
TICA Southwest Regional Update
---
TICA Great Lakes Regional Director, Liz Brown:
TICA GL Treasury Balance: $5109.22 ($3981.66 & $4863.18 for awards; $140.60 for flowers, $357.19 for awards booklets)


Yearbook Orders & Ads: Contact Chris Unangst.

Winter 2024 Board Meeting (Electronic): January 19 - 21, 2024


Please mark your calendars for the following TICA GL shows for the 2023/2024 show season:
November 18-19, 2023, Wisconsin-Illinois Cat Fanciers is hosting their NFL-themed show in Racine, WI.

January 14-15, 2024, PracTICAl Cats is hosting their annual winter show in Gray Summit, MO.

February 10-11, 2024, Toledo RusTICAts is hosting their first show in Bowling Green, OH.

March 8-10, 2024, Showcats Columbus show in Columbus, OH.
---
T

ICA Mid Atlantic Regional Director, Brenda Russo:
Remember to Vote! This year is an important election year! Voting will be open until November 22, 2003! If you haven't received your email to vote, please contact the EO or me.
Please mark your calendar to attend the upcoming 2023/2024 shows in the TICA MA Region:
December 9-10, 2023, Carnivorous Winos Cat Club in Lebanon, PA.

January 5-7, 2024, Central Jersey Cat Fanciers in Parsippany, New Jersey.

January 26-28, 2024, Charm City Cat Club in Timonium, MD.

February 3- 4, 2024 Central Jersey Cat Fanciers in Allentown, PA.

March 8- 10, 2024, Central Jersey Cat Fanciers in Phoenixville, PA.

March 15-17, 2024, United Cat Club Inc. in Chantilly, VA.

April 6- 7, 2024, Philadelphia Tea Party.
Annual MA Show: Chantilly, VA: Volunteers Needed! Please contact Lisa and Susan to volunteer.
T-Shirts will be available soon and lovely handmade quilts are available for raffle. Both will be available online and at select cat shows.

Stay up to date with all the current news and information about Annual.
Board News: Recently a ballot was sent out to the board, authored by Liz Hansen-Brown, regarding an additional $50 funding for each club through the 2023 show year to be used for Social Media promotion. This would be advertising marketed by TICA for the demographics around the club's show. I commented that after the show year of 2023, I would like to revisit and possibly consider having the funds directly sent to the club so that they can identify where they feel the promotion of their show is most needed.
---
TICA Northeast Regional Director, Christian Cherau:
Recap from the 2023 TICA Northeast Regional Banquet: The TICA Northeast Region again congratulates all of our 2022-2023 Regional Winners, and again a big thank you to all our sponsors for their contributions!
Member of the Year: David Nudleman
Judge of Year: Donna Madison
Westchester Feline Club Show of the Year: Crazy Pants Cat Club March 4-5, 2023.
Jack Freidland Clerk of the Year: André Grenier
Sportsman of the Year: Kim Langille
2023 Award in Memory of Siobhan Moore for Best Household Pet Kitten of the Year: RW Friar Tuck, Owner: Tracy MacArthur.
2023 Tord Svenson Memorial Award for Best Household Pet of the Year: IW SGM Isla Tabby Tail, Owner: Tracy MacArthur.
2023 James P Reardon Memorial Award for Best Alter of the Year: IW BW SGCA Mtnest Joaquin Obsidian Of Adjoemu, Owner: David Nudleman.
2023 Louise Van De Water Memorial Award for Best Kitten of the Year: IW Anouchka Mini Fee, Breeder/Owner: Brigitte Pouliot.
2023 Donna Madison Memorial Award for Best Shorthair Cat of the Year: IW SGC Emerald Snow Love's Archangel/ID, Owner: Amanda Jimmink & Yulia Spivak.
2023 Dr Solveig Pflueger Memorial Award for Best Allbreed and Longhair Cat of the Year: IW BW SGC Anouchka Schtroumpfette, Breeder/Owner: Brigitte Pouliot.
Stay Connected on Facebook and Instagram to the Northeast Region! The TICA Northeast Region has an Instagram page – please follow and tag your posts! https://www.instagram.com/tica.northeast.cats/. Be sure to join our Facebook group too! https://www.facebook.com/groups/ticane
We need content as well! Please feel free to direct message photos and reels, and you may see it featured in our grid and on stories!
Make Plans to Join us for our Fall Northeast Shows! As we look forward to the rest of the show season, we continue to encourage every member to show at least once a year, and we are working on opportunities across the Northeast to enable you to get to a nearby show!
November 18-19, 2023, CPE Cat Club (12 rings, 2-day show, featuring a parade of breeds, Junior Exhibitor Ring, and Best in Show) in Mississauga (Toronto), Ontario. In partnership with CPE's Christmas Pet Show.
December 2-3, 2023, Cat Lovers of New England Cat Club (12 rings, 2-day show, featuring Parade of Breeds daily, Junior Exhibitor Ring, and Best in Show) in Newington, New Hampshire.
Then mark your calendars for the Spring slate of shows!
March 2-3, 2024, Crazy Pants Cat Club in Brentwood NY.

March 29-31, 2024, CPE Cat Club in Mississauga, ON.

April 13-14, 2024, Nauticats in Sherbrooke, QC.

April 26-28, 2024, Catsachusetts in metro Boston, MA.
2024 Northeast Regional: I am accepting bids for the 2024 Northeast Regional banquet! Generally, this is held sometime in August, and we are open to bids. Please email Christina Cherau.
- Christian, TICA NERD
---
TICA Northwest Regional Director, Elaine Hawksworth-Weitz:
The Northwest Region would like to thank all of you that attended the 2023 TICA Annual event in Tacoma, Washington. It took over three years of preparation and hours upon hours of work to make it happen. It was our pleasure to host the event.
Please mark your calendars for the following 2023 TICA NW show:
---
TICA Southeast Regional Director, Rene Knapp:
Pigeon Forge Cat Show: The TICA SE Region's Pigeon Forge show was a great success. The pajama party on Friday night was so much fun with all of us in our PJs and the cat costume competition was bigger than ever. It was one of the best shows in the TICA SE region.
Join me on YouTube: I started my YouTube videos this past month. Check out the channel @ReneKnapp. The videos posted are geared toward show exhibitors and visitors, and as time goes on there will be many helpful topics ranging from grooming, finding an ethical breeder (including what questions to ask the breeder), the history of some of our breeds, therapy cats, and much more.
The first two videos are instructions on how to make the perfect cat Christmas wreath and how to take the best picture of your cat using your phone, tricks of the trade, by Larry Johnson.
Please subscribe to us and check back often for new videos.

Upcoming TICA SE Region Shows: The TICA Southeast Region has some great shows ahead.
We are gearing up for the new Daytona show November 11-12, 2023. This new club has been hard at work, and they have some surprises in store.


After enjoying a wonderful family Thanksgiving, please enter our Jekyll Island Christmas show followed by our Largo New Years show.
---
TICA Southwest Regional Director, Laurie Schiff:
Please remember to vote!
Make your plans now to attend these other upcoming shows in the TICA SW Region:
November 18-19, 2023, Surf-N-Turf & America's Finest Felines in Arcadia, CA.

February 17-18, 2024, Catitude CC & Socal Exotica CC in Victorville, CA ** 12 Rings! New Venue!

March 16-17, 2024, Surf-N-Turf in Arcadia, CA.

April 12-14, 2024, Celebrity Cat Club in Arcadia, CA ** 3 DAY SHOW including a Friday night Pajama Party and Poker Run!

June 22-23, 2024, Socal Exotica Cat Club in Arcadia, CA.

July 26-28, 2024, Southwest Regional Awards show and Banquet ** 3 DAY SHOW!
---