---
April 3, 2020
---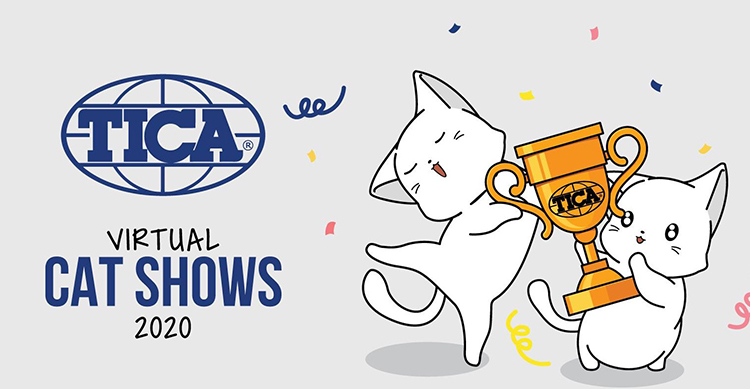 Virtual TICA Cat Shows Coming Soon to Facebook
TICA members are organizing a Virtual cat show. Events will not count as an official show for points or titles, but rather something to keep members engaged during this period of social distancing and raise funds to help those who were forced to cancel shows due to the coronavirus.
Each TICA Region will set up their own virtual show under the established overall TICA guidelines that will be held on the dedicated Facebook page TICA Virtual Cat Shows 2020 Facebook page. Members can only enter within their own TICA Region, but can enter as many cats as they wish. All entry monies will go directly to each member's Region. Each Region will only host one virtual show. Sponsorship opportunities will be for each Regional virtual show.
Categories will reflect those of an official TICA show however, some Regions may opt to include special rings, such as "Golden Oldies", "Wee Wee" of kittens or litters under 6 weeks, a "Rainbow Ring" for cats that have passed, and a "Juniors".
Organizers are also considering creating one big International show at the end of the process.
Final rules for each region will be posted on the TICA Virtual Cat Shows 2020 Facebook page in the coming week. For more information, visit the TICA Virtual Cat Shows 2020 Facebook page.
---
In This Issue
Virtual TICA Cat Shows Coming Soon to Facebook | How to Keep Your Cat Happy & Healthy While Social Distancing | Enter TICA's "Finding Friends Through TICA" Contest to Win A Siamese Betta Purrmaid | TICA Creates Creative Corner for Kids & Adults | Tune in to Nightly Pet Tips and Advice on Facebook Live | Can a Change in Your Cat's Diet Help Humans Deal with Feline Allergies | TICA Good News March 27 Contest Winners "Cat's will do Anything for Food"
---

How to Keep Your Cat Happy & Healthy While Social Distancing
While animals are a guaranteed source of comfort, these days that statement has never been more accurate. Through the extremes of ceaseless boredom and crippling anxiety, our kitties have been an essential source that has kept us sane and focused while stuck at home.
While our cats are keeping us stable during this unprecedented time, we need to make sure they are happy and healthy. Following are things to keep in mind while caring for your cat while social distancing. Among them:
Is my cat safe from the coronavirus? According to the World Health Organization, there's no indication that pets can transmit the virus to humans. You can interact with your pets as usual, however If you are showing signs of illness, the CDC recommends that you isolate yourself from your pet and that someone else in the household feed and care for them.
What if my pet gets sick? At this time, many veterinary clinics are offering emergency services on an as-needed basis and opting to cancel elective appointments and procedures until the threat to human health subsides. Many practices are also offering tele-medicine and curbside service, including pet drop off and medication pick up. Be sure to call your veterinarian if a medical issue arises such as vomiting, diarrhea, decreased appetite, bleeding, coughing, and sneezing, so you can get to the bottom of the issue quickly.

Do I need to make changes to my feline's feeding habits? 
Continue to feed your pets the same nutritious balanced diet they've always eaten on a consistent schedule. Be careful not to overfeed them just because you or they seem bored. Make sure you have at least a month's supply of food will ensure consistency should there be a shortage of your cat's favorite food. If your cat is on a special diet, be sure you have the necessary veterinary notes and prescriptions on hand so you don't encounter issues when it's time to purchase.
What supplies do I need? There's no need to panic, but stocking up on necessary pet supplies, including food and treats, litter, medications and toys means you won't have to head to the store or veterinarian any more than needed. Pet stores and online retailers are considered an essential business, so most will stay open and many are offering curbside pickup at this time.

How do I keep my cat entertained while I work from home? Keeping your cat entertained while working from home is essential to their wellbeing and your ability to get work done. Make sure you have a supply of feline puzzles, treat-dispensing toys, and smart bowls that challenge your pet to figure out how to free their treat/food. Also check out the many cat music and TV channels on YouTube if you have to work and want to keep your cat entertained.
---

Enter TICA's "Finding Friends Through TICA" Contest to Win A Siamese Betta Purrmaid, $40 value
Two Finalists to Receive Baby Purr Plushies

Anyone who knows TICA's Endorsement of Excellence recipient, the Purrmaids, knows that these mermaid pedigree kittens go around doing good while making friends, just like TICA members.
In honor of the Purrmaids, this week TICA is looking for you to tell us in three sentences or less how you found your friend through TICA. Whether from an event, breed seminar, or club, let us know how sharing your fabulous feline through TICA has brought you fun and friendship.
TICA members can enter by emailing their responses, along with their name, TICA Region, club name, and cat name and breed to newsletter@tica.org. Your entry can include a photo, but is not required. Entries must be received by 11:59 PM ET on Tuesday, April 7, 2020. Responses must be three sentences or less to be considered.
One grand prize winner and two finalists will be chosen at random and featured in the April 10 issue of TICA's GOOD NEWSletter and on TICA social media pages. The Grand prize winner will receive a Purrmaid Siamese Betta plushie, a $40 value. Two finalists will each receive a Baby Purr Plushee, a $15 value.
CONTEST RULES: 1. Animals and humans in the photos and the photos themselves must be owned/taken by you. If the animals aren't yours, you must have written and signed permission from the owners. You cannot enter the contest for someone else. 2. Send only previously non-published photos and photos that have not won previous photo contests. (Photos must not have appeared before in a print publication.) 3. All entries must include a caption, your name, email address, phone number, and the pets' name and breed (if known). 4. Finalist photos will be judged based on production values (in focus, good lighting, high enough resolution — 300 dpi preferred), adherence to the themes and appeal. 5. You must be 18 or older to enter. Employees and relatives of The International Cat Association (TICA) are not eligible to enter. 6. Winners will be announced the following week in TICA's GOOD NEWSletter. Winners will also be posted on our social media. TICA will have the rights to use all entry photos and winners'/pets' names, city/state/country plus any text provided in all print media, websites or social media owned in perpetuity by TICA. 7. The photo contest is open to all TICA members. 8. Void where prohibited by law. 9. You must be a member of TICA.
---
TICA Creates Creative Corner for Kids & Adults
Do you have a sock that has a hole in it or one that you've outgrown? Don't toss it in the trash when you can easily turn it into a cat stuffed animal.
Check out TICA's Creative Corner to learn how to make a feline stuffed animal out of an old or abandoned sock. No need to go out and buy supplies, all you need is an old sock, needle and thread or glue, two buttons, a marker and scissors.
Remember to email your finished creations to newsletter@tica.org so we can share them with the rest of TICA's world.
---

Tune in to Nightly Pet Tips and Advice on Facebook Live
Most nights you can catch Veterinarian Doc Liz Bales hosting a Facebook Live talk with special pet-approved guests.
Tune in this weekend at 8pm EST to hear Dr. Margie Scherk, DVM, ABVP, co-editor of the Journal of Feline Surgery and Medicine, talk about setting up kittens for a lifetime of wellness.
Click here for more information.
Be sure to catch prior episodes on how to set up a Cat "Happy-Hour" and "Covid-19 and our pets".


---

Can a Change in Your Cat's Diet Help Humans Deal with Feline Allergies
Allergy to cats is the most common animal-origin allergy in human beings. Worldwide, one in five adult humans, as well as many children, are affected by allergy to cats. The aversion often results in deterioration or breakage of the human-animal bond, resulting in stress and suffering for both the cat and its owner(s), and also is a significant barrier to adoption and ownership of pet cats.
A novel approach to human cat allergy has recently been discovered, and involves treatment of the cat through safe dietary modification: the addition of antiFel d1 IgY polyclonal chicken egg antibody to the food. Click here to read more about a new study that links a feline's diet to cat allergies and its findings.
---

TICA Good News March 27 Contest Winners "Cat's will do Anything for Food"
We're excited to announce the winners of TICA's March 27 "Cats will do Anything for Food photo contest. Click here to see the adorable winning photos.
The Grand prize winner will receive a 6.6 lb. bag of Dr. Elsey's CleanProtein cat food and two finalists will receive coupons for a complimentary 40 lb. bags of Dr. Elsey's Ultra Cat Litter.