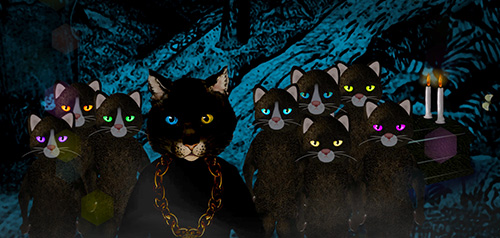 NATIONAL TOUR RETURNS IN OCTOBER FOR ANNUAL CELEBRATION OF DOGS & CATS WORLDWIDE
New York, NY (September 1, 2021) – After a brief hiatus due to the COVID-19 shutdown, the 4th Annual NY Cat Film Festival and the 6th Annual NY Dog Film Festival will return this fall, premiering in New York City on October 16 & 23, respectively, and then showing nationwide on October 27 (NY Cat Film Festival) and November 10 (NY Dog Film Festival) with additional showings throughout the fall. The films are dedicated to telling stories of the enduring and heartwarming bond between people and pets through animated, narrative and documentary films.
Presented by pet wellness advocate and radio host Tracie Hotchner, the festivals premiere in New York City each year, and then tour the country, delighting audiences nationwide. For full information and tickets, visit www.catfilmfestival.com and www.dogfilmfestival.com
The 4th Annual NY Cat Film Festival
The festival premieres in NYC on October 16 this year in honor of Global Cat Day, and then will show at theaters in multiple cities on October 27.
The NY Cat Film Festival™ is an exploration through film of the fascinating felines who share our lives, creating a shared audience experience that inspires, educates and entertains. Several films in this year's Cat Film Festival tell stories of cat owners from across the globe and their experiences with their feline companions during the tough times of COVID-19 lockdown.
A portion of each ticket on the national tour will benefit a local feline rescue.
The 6th Annual NY Dog Film Festival
The festival premieres in NYC on October 23 to kick off Saving Senior Dogs Week (October 25-31) and features a several films that celebrate the challenges and joys of adopting senior dogs, who are the ones most in need of rescuing. The festival will then show in theaters in multiple cities on November 10.
The NY Dog Film Festival™ is an annual philanthropic celebration of the love between dogs and their people. The two-hour program is a medley of animated, documentary and narrative short films from around the world that inspire, educate and entertain about our canine companions.
A portion of each ticket on the national tour will benefit Saving Senior Dogs Week.
National Tour
After the festivals' NYC premiere, Landmark Theatres will show the NY Cat Film Festival on Wednesday October 27 and the NY Dog Film Festival on Wednesday November 10 in the following cities:
Albany, NY
Atlanta
Berkeley
Bethesda
Cambridge
Chicago
Denver
Indianapolis
Los Angeles
Milwaukee
Minneapolis
Philadelphia
St. Louis
San Diego
Shoreline, WA (Seattle)
The festivals will continue showing throughout the fall and winter in additional cities. For showtimes in your area visit www.landmarktheatres.com
About the Festival Founder
Tracie Hotchner is a nationally acclaimed pet wellness advocate, who wrote THE DOG BIBLE: Everything Your Dog Wants You to Know and THE CAT BIBLE: Everything Your Cat Expects You to Know. She is recognized as a unique voice for pets and their people on pet talk radio, with particular expertise in the area of pet nutrition. She is an educator to pet parents and consultant to pet industry companies, honored as a Pet Age Woman of Influence in 2018. She continues to produce and host her own Gracie® Award winning NPR show DOG TALK® (and Kitties, Too!) from WLIW.FM in the Hamptons after 14 consecutive years and a podcast library with 750 shows. She produced and hosted her own live, call-in show CAT CHAT® on the Martha Stewart channel of Sirius/XM for nearly 8 years until the channel was canceled. Tracie created her own Radio Pet Lady Network™ where she produces and hosts CAT CHAT® as a podcast along with her other pet talk shows, interviewing veterinarians and pet experts around the world.