说明

分类:

TICA News

点击数:993
There is no translation available.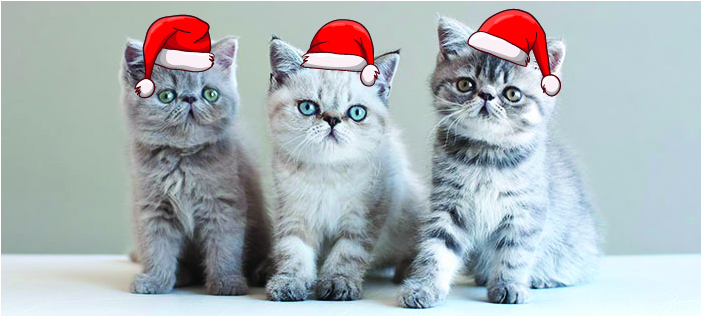 TICA Friends!
The season of giving is upon us! We're getting into the holiday spirit with a special offer for TICA breeders from our friends at
Trupanion
, providers of medical insurance for the life of your pet.
For a limited time only, eligible breeders who sign up for Trupanion's Breeder Support Program will automatically receive 10 cat toys and be entered into a giveaway for a $100 gift card!*
Signing up is easy and free! Give yourself the gift of peace of mind with these benefits and more:
Go Home Day Offer – Send your kittens home with an exclusive coverage offer with no waiting periods.
Kitten Pack Materials – Complimentary brochures and informational materials sent to your door.
Dedicated Support – Access to your own account manager and a private Facebook group of breeders.
Don't wait—this offer and giveaway is only valid for breeders who sign up by December 31, 2021!
Terms and conditions apply.** For full giveaway rules:
click here
Congratulations to the lucky winners from our last giveaway!
Marcie B. from British Columbia, winner of a $100 Amazon.ca gift card
Andy M. from Colorado, winner of a $100 Chewy gift card
You could be next! Use the link above to sign up before the end of the year.
Happy Holidays from Trupanion and TICA!
*$100 USD Chewy gift card for US, $100 CAD Amazon.ca gift card for CAN. Valid only for breeders in the US and Canada. Maximum reward of up to $600 a year for individuals and households in Canada and the US (excluding Washington State). Maximum reward of up to $100 a year for individuals and households in Washington State.
** NO PURCHASE NECESSARY. Must be legal resident of Canada (excluding Quebec) or 50 US states and DC (excluding ND and WV), 18+ and at least age of majority. VOID WHERE PROHIBITED. Enter by: December 31, 2021. Odds of winning depend on the # of entries. Details and rules can be found
here
. Sponsor: Trupanion Managers USA, Inc.
Trupanion is a registered trademark owned by Trupanion, Inc. Underwritten in Canada by Omega General Insurance Company and in the United States by American Pet Insurance Company, 6100-4th Ave S, Seattle, WA 98108. Please visit AmericanPetInsurance.com to review all available pet health insurance products.
说明

分类:

TICA News

点击数:3697
There is no translation available.

说明

分类:

TICA News

点击数:4304
There is no translation available.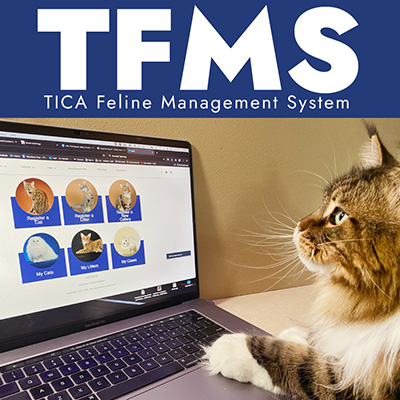 TICA Members and Clients,
The much-anticipated TICA Feline Management System (TFMS) is now LIVE and ready for you to register your litters, order a pedigree, and so much more!
A few important notes:
You must create a new account within TFMS, however when you create your TFMS account be sure to use the same email you used in TDS. Your records have been migrated from TDS to TFMS, so it is important to use the same email address in creating your new TFMS account.


Before calling the EO, please watch the training videos, there are links in TFMS, but you can also go to: TICA Feline Management System - YouTube.


If you encounter any issues, please submit the issues from either the Cat Detail Page or the Litter Detail page within your new TFMS account. You can access both by clicking on "My Cats" or "My Litters" then selecting a specific cat or litter. From there, click "Request Service" and use the "None of the Above" option to let us know if you run into to any issues.


We encourage you to create and log on to your account and check out some of the new features offered, including:
• New Shopping Cart Tool for Instant Transactions
• Make Updates to Your Own Account
• Fully Automated Cattery Registrations
• Multiple Languagesfor Worldwide Users
Please keep in mind that we will continue to work on our backlog in the old system, so service times will not be optimal until the backlog is up to date.
Welcome to TFMS!
TICA Marketing Team
说明

分类:

TICA News

点击数:1068
There is no translation available.

Transferring Ownership | Breeders | Get Started | Registration
说明

分类:

TICA News

点击数:2905
There is no translation available.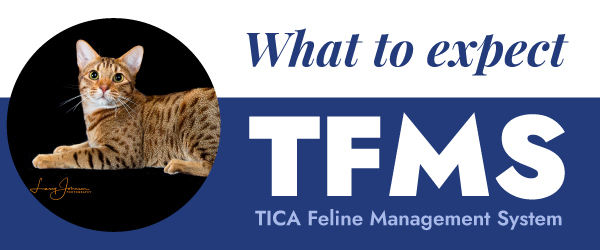 Dear TICA Members and Clients,
Today, September 10, TICA's TDS will shut down for data migration to the new TICA Feline Management System (TFMS). We are very excited to announce that the new system will be up and operational this Tuesday, September 14.
To help you get ready for the launch, we have provided the following links to information and 'how to' videos that will let you hit the ground running when TFMS launches, including:
To ensure a smooth transition, please Do Not Call or Email TICA's Executive Office for information or updates during this timeframe.
Thank you for your continued support during this exciting time.
Sincerely,
The TICA Marketing Team