Cat Agility is Fun for You and Your Cat!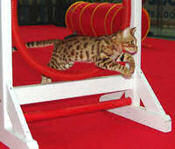 International Cat Agility Tournaments (ICAT) has created a new category of cat competition. During timed events, cats negotiate an agility course designed to display their speed, coordination, beauty of movement, physical condition, intelligence, and training. But most important of all, cat agility demonstrates the quality and depth of their relationship with their owner who trains with them and guides them through the course.
ICAT is a separate association from TICA. Cats and kittens that are registered with ICAT can compete in timed trials, and earn Agility Cat Titles based on the levels of difficulty they complete. Other cats and kittens not registered with ICAT can still compete in timed trials at local TICA cat shows and compete for prizes at that event. Founded by two TICA members, ICAT agility competitions are held at TICA cat shows around the world.
Let's dispel a myth first: Cats are very intelligent, and are easily trainable!
Practice for agility can be done around the house (over the bed, chair to chair, under the table, etc.) The key is to play with your cat every day!

Train with patience, respect, and affection, because domestic cats are colony animals (not pack animals, like dogs are), and cats have a more cooperative nature than is customarily recognized.

Take time to decode their communication and form a connection with your cat -- you will both enjoy it.

Agility Course Obstacles

You don't need to have fancy agility equipment to train your cat at home. You can "create a course" by guiding your cat over chairs turned on their side... across a counter or table... through a small cat tunnel you can buy at a local pet store. If you do want to build your own set of agility course obstacles for both Basic and Advanced Courses you can visit www.catagility.com for specifications.
Other options are to purchase obstacles made by someone else, like a dog agility equipment vendor. The obstacles and courses are designed with safety, spectator appeal, and fun for the cat in mind. There are Levels at which the course can be run, depending on the owner's assessment of the cat's cardiovascular, muscular and skeletal condition. Cats can win titles at any Level; there is no pressure to advance to the next higher level, which may be beyond a cat's physical ability.
Levels of Agility
There are two levels of agility: Basic and Advanced. The Basic level allows your cat to get used to various obstacles and working through a course. It will also help build your working relationship, moving up in speed and abilities.
The Advanced Level is broken up into Level 1 and Level 2. The Advanced Levels are where the most conditioned, outgoing, intelligent cats will be competing, over courses which maximize the display of physical ability and handler-cat interaction, plus direction to obstacles not in a circular pattern. Each obstacle is set at its maximum height and difficulty In the proposed Level 2 course (we'll be testing it a few times before general release).
Advanced Course, Level 2 is a very difficult course, and it is spectacular to watch an exceptional agility cat working it. Only cats with Advanced Level 1 agility cat titles may practice or do timed runs on this course because cats need to be in superb physical condition and have excellent communication with their experienced owner/ handler.
To learn about training at home, upcoming agility competitions and more information about ICAT visit www.catagility.com
Download Our Visitors Guide (PDF)