There is no translation available.
Name: Valerie Jardine

City: Abbotsford

Province: British Columbia

Country: Canada

Zip: V2S 8M8

Phone: (604) 859-4391

Email: vja@telus.net

Website: www.sphynxcraft.ca
Expires 5/1/2021 • Renew
Problem with your listing? Email TICA
Disclaimer: The International Cat Association, Inc.® (TICA®) Does Not Endorse any of the breeders, products, or services on this page unless otherwise noted. Please read our Disclaimers.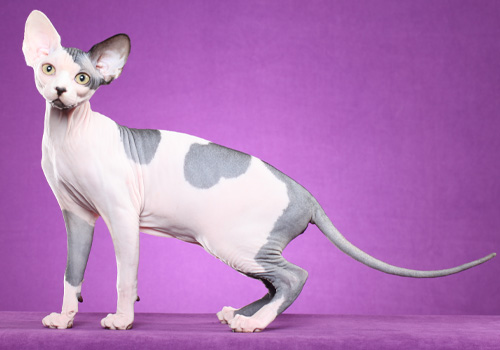 Accepted For Championship in TICA in 1979
---
---
Best of Breed: Sphynx

Click on thumbnails for larger image

Best Sphynx Of The Year
IW BW SGC DESTYNYS AT LAST
BLUE TORTIE/WHITE
Bred/Owned By: EMILY GREENE


Best Sphynx Kitten Of The Year
RW BW DESTYNYS IN FULL SWING
WHITE
Bred By: EMILY GREENE/DANA HERTLING
Owned By: EMILY GREENE


Best Sphynx Alter Of The Year
IW BW SGCA BORYA SAUSAGE AND PEANUTS
BLACK/WHITE
Bred By: SHAUNTAY BURRIS/LINDA EPP
Owned By: VICTORIA TAYLOR